Ah, there's nothing quite like whipping up a steaming bowl of spicy noodle soup for my loved ones on a chilly evening. It's just the thing to warm up their bodies, and most importantly, their hearts.
First off, I put on my favorite tunes and get ready for a cooking extravaganza! With a hop, skip, and a jump, I head to the kitchen and pull out the freshest veggies I could find at the farmer's market this morning. The carrots, bell peppers, and mushrooms are just begging to be chopped to perfection, and I can't resist their colorful and delicious call.
With the chopping block resembling an artist's palette, it's time to add some flair to that fragrant vegetable medley. Garlic, onion, and ginger sautéed in a hot pan give off an aroma so intoxicating, I can hardly contain my excitement. As the fusion of flavors begins to make my stomach grumble, I throw in a generous splash of mouthwatering soy sauce and scrumptious sesame oil to really get things cookin'.
Now, for the pièce de résistance – the spicy kick! Who could resist the fiery lure of chili sauce and crushed red pepper flakes? Certainly not me! These bad boys give the noodle soup its unforgettable zing that makes every spoonful an adventure.
Hold your horses, though! Can't forget about the star of the show: the noodles. I opt for tender rice noodles that soak up all those delightful flavors without stealing the spotlight from the bold broth.
The magic moment has come! Combining the noodles and the savory, spicy broth makes my taste buds do a little dance. Isn't it funny how such simple ingredients can create such an explosion of flavor?
Heads up, family and friends – it's time to indulge in a symphony of flavors! And isn't that what it's all about, anyway? Bringing people together through the power of good food and, of course, a generous pinch of love. Bon appétit!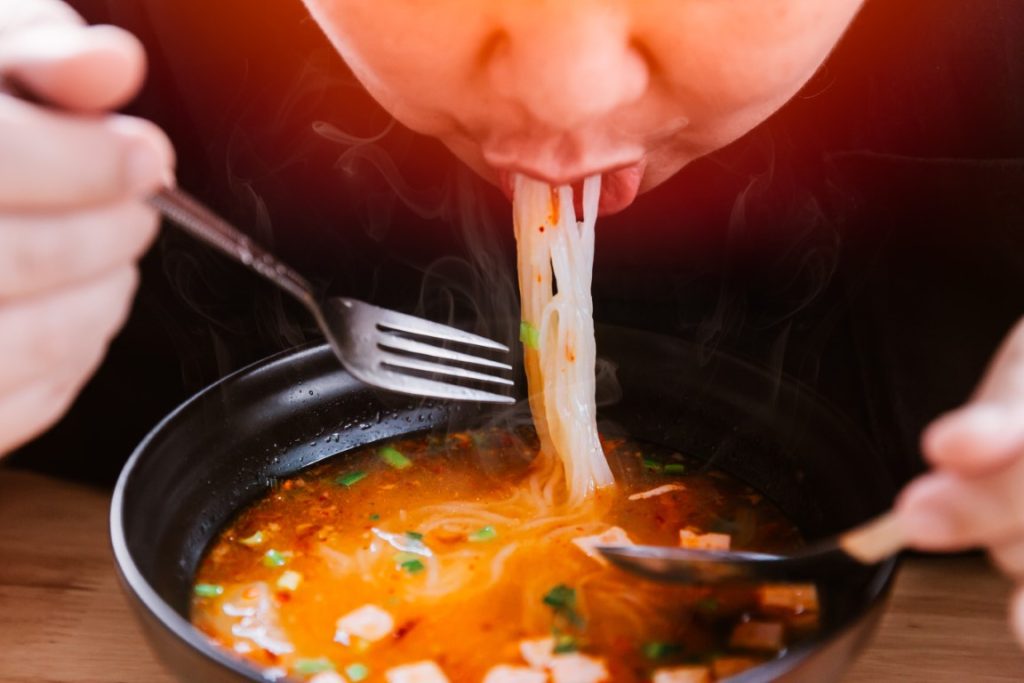 Prepare ingredients:
4 cups vegetable broth
2 cups water
2 cups sliced mixed vegetables (such as carrots, bell peppers, and mushrooms)
4 cloves minced garlic
1 small onion, diced
1 tablespoon grated fresh ginger
2 tablespoons soy sauce
1 tablespoon sesame oil
1 tablespoon chili sauce (adjust to desired spiciness)
1/2 teaspoon red pepper flakes (adjust to desired spiciness)
8 ounces rice noodles
Optional toppings: chopped cilantro, sliced green onions, and lime wedges
Instructions:
Heat a large pot over medium heat.
Add sesame oil, minced garlic, diced onion, and grated ginger.
Sauté until onions are translucent and fragrant.
Add sliced mixed vegetables to the pot, stirring to coat evenly with the oil and aromatics.
Pour in vegetable broth and water, then stir in soy sauce, chili sauce, and red pepper flakes.
Bring the pot to a simmer and allow the vegetables to cook until they are tender but still slightly crisp.
In a separate pot, cook rice noodles according to package instructions, then drain and rinse under cold water to stop the cooking process.
Add cooked rice noodles to the spicy vegetable broth, stirring gently to combine.
Taste and adjust seasoning if needed, adding more chili sauce or red pepper flakes for additional heat if desired.
Serve the spicy noodle soup in bowls and garnish with optional toppings like chopped cilantro, sliced green onions, and lime wedges for a burst of freshness and extra flavor. Enjoy!
That was fresh!