Let me tell you, there's no better way to impress your family and friends than by whipping up a scrumptious, aromatic, and yes, healthy homemade Red Thai Curry! With its rich blend of flavors and lingering spiciness, this dish never fails to hit the right spot. So let's dive into the delicious world of curry-making, shall we?
Gosh, where do I even begin? First and foremost, the key to the perfect curry is all in the paste – you can't have too much of a good thing, am I right? For a fresh and authentic base that packs a punch, I suggest making your paste from scratch. Load up the food processor with some shallots, garlic, lemongrass, galangal, kaffir lime zest, and of course, the star of the show – dried red chillies. Don't skimp on these bad boys; they're the heart and soul of your dish after all. Give it a whirl, and voilà! You've got yourself a beautiful, fragrant curry paste.
Now, let's get down to business. In a large pan, heat up a generous glug of oil, and toss in that beautiful paste. Sauté it until it's browned and oozing a tantalizing aroma. Mmm, would you just smell that?
Next up, it's time to say hello to a can of creamy coconut milk – talk about a match made in heaven! Pour that baby over your sautéd paste and mix well, allowing everything to meld together in culinary harmony.
Oh, but we're not done yet – no siree! Remember, this is a curry, so it's time to toss in your veggies and protein of choice. My personal favorites are pumpkin, bell peppers, and chicken, but feel free to get creative! This dish is nothing if not versatile.
As your curry simmers, bringing the flavors to life, I like to add a good squeeze of tamarind paste and a generous sprinkling of palm sugar – you know, for that classic sweet and sour taste that balances out the spice. And to top it all off, throw in some Thai basil and chunks of pineapple for that extra zing.
Voilà! It's done! Now serve up that hearty, colorful creation in a deep bowl over a bed of steaming jasmine rice, and you've got yourself a feast fit for kings.
Trust me, your loved ones will devour every last morsel, and it'll be your new dinner party go-to in no time! So go ahead, spice up your life, and spread the love with a tasty Red Thai Curry.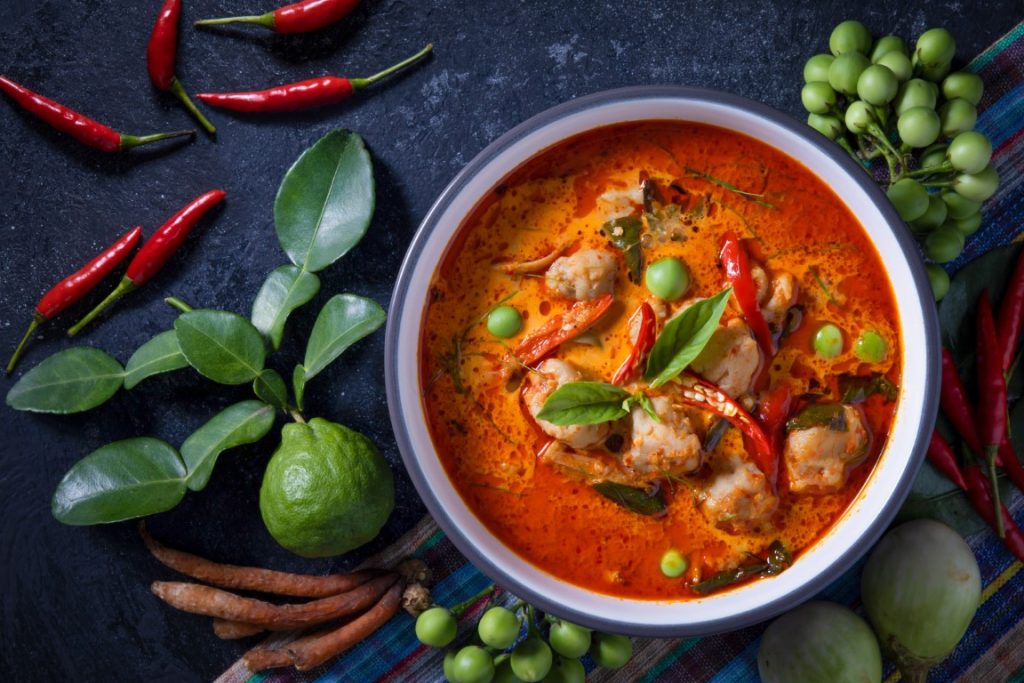 Prepare fresh red curry paste:
In a food processor, combine the following ingredients:

5-6 dried red chillies (soaked in warm water for 10 minutes)
3 shallots, roughly chopped
3 cloves garlic, minced
1 stalk lemongrass, chopped (tender part only)
1-inch piece of galangal, sliced
Zest of 1 kaffir lime

Process until a smooth paste is formed; set aside
Heat a large pan with a generous glug of oil over medium heat
Add prepared curry paste to pan, sautéing until browned and aromatic
Pour in one can (14 oz or 400ml) of coconut milk; stir well to combine with the paste
Add protein and vegetables of choice, such as:
1 lb (500g) diced chicken, beef, or tofu
2 cups chopped vegetables (e.g. pumpkin, bell peppers, zucchini, or green beans)
Bring mixture to a simmer, stirring occasionally
Mix in Thai seasonings:
1-2 tbsp fish sauce (or soy sauce for a vegetarian option)
1-2 tbsp tamarind paste
1-2 tbsp palm sugar (or brown sugar)
Continue to simmer for 15-20 minutes, or until protein is cooked through and vegetables are tender
Stir in 1 cup packed Thai basil leaves, and 1 cup pineapple chunks (drained, if using canned)
Taste and adjust seasonings as needed—more fish sauce for saltiness, sugar for sweetness, or tamarind for tang
Remove from heat and let curry rest for a few minutes to allow flavors to meld
Serve over a bed of steamed jasmine rice, garnished with fresh Thai basil and lime wedges Enjoy the lip-smacking Red Thai Curry!
That was fresh!