Let me tell ya, if there's one thing that gets my heart racing and my kitchen buzzing, it's the prospect of creating a scrumptious, homemade lasagna! There's just something about those luscious layers of pasta, sauce, and cheese that brings people together like a big, warm hug.
First off, I roll up my sleeves and get cracking on that mouthwatering sauce. I mean, you can't have a showstopping lasagna without a killer sauce, right? I start by sautéing onions and garlic in a splash of olive oil until they're tender and aromatic. Then, I add a hearty mix of ground beef and Italian sausage, browning them to perfection before stirring in crushed tomatoes, tomato paste, and a dash of red wine. Can't forget those herbs and spices – basil, oregano, and a pinch of red pepper flakes for a little kick. Let that bad boy simmer away, and we're in business!
Now, it's time to get cheesy! I whip up a delectable blend of creamy ricotta, mozzarella, and grated Parmesan, seasoned with a hint of nutmeg and a sprinkling of fresh parsley. Mamma mia, we're in cheese heaven!
With my sauce and cheese mixture ready to go, the real fun begins – layering! I carefully spread a layer of sauce at the bottom of a deep baking dish, followed by a layer of lasagna noodles, a generous dollop of that dreamy cheese mixture, and then some more sauce. I repeat this process until I've built a towering masterpiece of Italian goodness.
Into the oven it goes, bubbling and browning to perfection. When it's finally time to dig in, I slice into that heavenly creation, watching as the gooey cheese stretches and clings to each serving. As we gather around the table, I know I've outdone myself – this lasagna is truly a labor of layered love!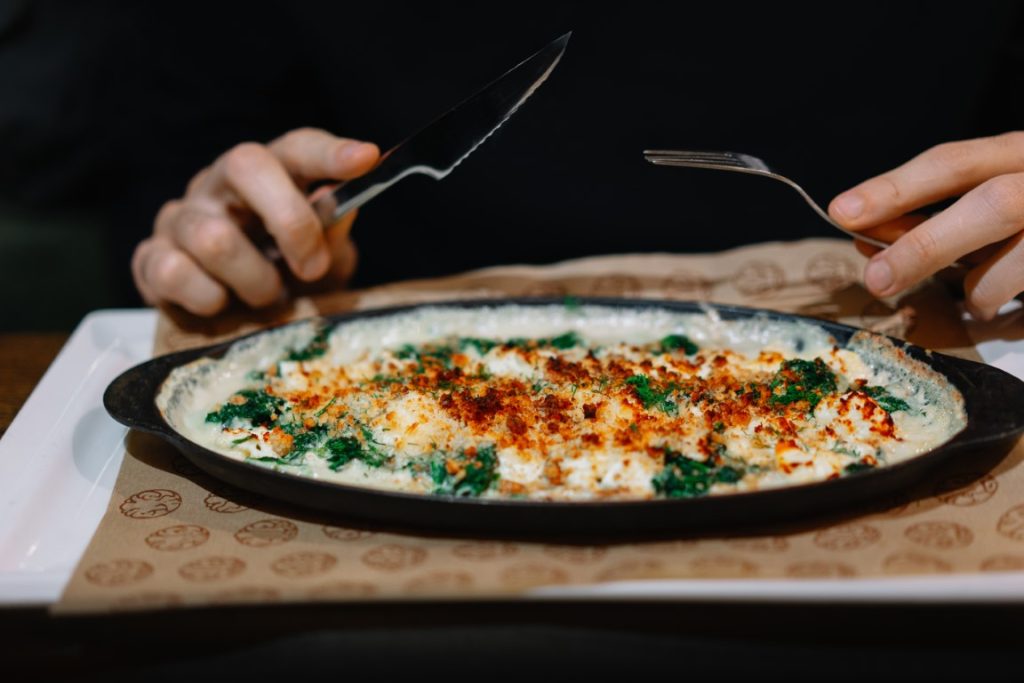 Ingredients:
12 lasagna noodles
1 lb. ground beef or Italian sausage
1 jar (24 oz.) of pasta sauce
1 can (14.5 oz.) of diced tomatoes
1 cup of water
1 cup of ricotta cheese
2 cups of shredded mozzarella cheese
1/2 cup of grated Parmesan cheese
1 egg
1 teaspoon of dried basil
1 teaspoon of dried oregano
Salt and pepper, to taste
Instructions:
Preheat your oven to 375°F (190°C).
Cook lasagna noodles according to the package instructions, then drain and rinse them in cold water.
Brown the ground beef or Italian sausage in a large skillet over medium-high heat. Drain any excess grease.
Add the pasta sauce, diced tomatoes, water, basil, oregano, salt, and pepper to the skillet. Bring the mixture to a simmer and let it cook for about 10 minutes.
In a separate bowl, mix together the ricotta cheese, 1 cup of the mozzarella cheese, Parmesan cheese, and egg.
Spread a small amount of the meat sauce in the bottom of a 9×13 inch baking dish.
Layer 4 cooked lasagna noodles over the sauce in the baking dish, overlapping slightly.
Spread about one-third of the cheese mixture over the noodles.
Add another layer of meat sauce on top of the cheese layer.
Repeat steps 7-9 until all the ingredients are used up. Finish with a layer of meat sauce on top.
Sprinkle the remaining shredded mozzarella cheese on top of the meat sauce.
Cover the baking dish with foil and bake for about 25 minutes.
Remove the foil and bake for another 25-30 minutes, or until the cheese is melted and bubbly.
Let the lasagna rest for about 10 minutes before slicing and serving.
That was fresh!