Ah, potato salad! There's just something uniquely comforting about a bowl of fresh, homemade potato salad, isn't there? I mean, it's seriously hard to resist the creamy, tangy delight that is this classic dish. And you know what? I absolutely love cooking up a big batch of potato salad for my family and friends.
So, let's dive into how to prepare this crowd-pleaser, shall we? Firstly, choosing the right potato variety is crucial. I wouldn't want to end up with a mushy mess, now, would I? Hands down, my all-time favorite has to be Yukon Gold potatoes–they hold their shape beautifully and boast a rich, buttery flavor. What's not to love?
Next, I keep things simple by boiling the potatoes in salted water until they're perfectly fork-tender–not overcooked to oblivion or undercooked to a raw crunch. Those precious spuds need to be just right…you know, like Goldilocks!
Now, while I wait for those beauties to cool down a smidgen, I get my patience-testing chopping session done and dusted. I like to throw in some crunch-tastic celery, tangy red onion, a sprinkle of scallions, and a fistful of fresh parsley for that pop of color… and voilà!
Alright, onto the next level: the dressing. To achieve that finger-licking goodness, I whisk together the ever-so-versatile mayonnaise with a dollop of mustard, just enough to give it a bright punch of flavor. Now, here comes the magic: a splash of apple cider vinegar and pickle juice for that added zing! Can't forget a good ol' pinch of salt and pepper–because, seasoning, right?
Finally, it's time to smother those cooled potatoes with our tangy, creamy concoction, and gently fold in the vibrant veggies. And there you have it, folks: a bowl full of delicious, satisfying potato salad that'll have everyone begging for seconds!
Potato perfection is the phrase that comes to mind–but I might be biased. Go ahead, give it a whirl and see for yourself! Happy cooking, y'all!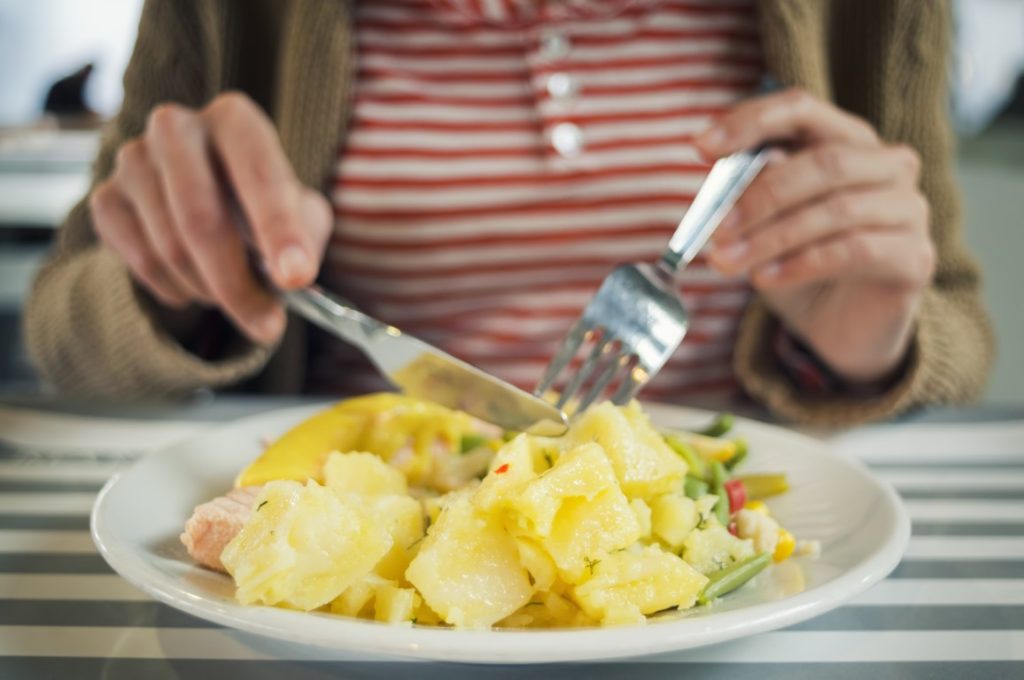 Gather ingredients:
2 pounds Yukon Gold potatoes
Salt, for boiling water
¾ cup mayonnaise
1 tablespoon mustard
1 tablespoon apple cider vinegar
2 tablespoons pickle juice
Pepper to taste
1 cup chopped celery
½ cup diced red onion
2 scallions, chopped
¼ cup chopped fresh parsley
Instructions:
Wash and scrub the potatoes, peel if desired, then chop into evenly sized cubes.
In a large pot, bring enough salted water to cover the potatoes to a boil.
Add potatoes to boiling water and cook until fork-tender, about 10-15 minutes.
Drain potatoes and set aside to cool.
While potatoes cool, chop celery, red onion, scallions, and parsley, setting aside in a large mixing bowl.
In a separate bowl, prepare dressing: whisk together mayonnaise, mustard, apple cider vinegar, and pickle juice. Season with salt and pepper to taste.
Once potatoes have cooled slightly, add them to the bowl with the chopped vegetables.
Pour prepared dressing over the potatoes and vegetables in the bowl, and gently fold everything together until evenly coated.
Taste your potato salad and adjust seasoning if needed, then transfer to a serving bowl.
Refrigerate potato salad for at least 1 hour before serving for best flavor. Optional: garnish with extra parsley.
Serve and enjoy your delicious homemade potato salad with family and friends.
That was fresh!