Let me let you in on a little secret of mine – my all-time favorite recipe for Turkey Tacos with Cauliflower Rice. Oh, believe me, it's a game-changer! Not only is it packed with flavor, but it's also fresh, healthy, and easy to put together. The best part? My family and friends always come back for seconds, and I know your loved ones will too!
So, what do you say? Ready, set, cook! First things first – gather your ingredients. One of the things I love about this recipe is that it's filled with fresh veggies and low on carbs. It really hits the spot without leaving you feeling heavy and bloated. For the turkey, I prefer using ground turkey that's 93% lean. It's just the right amount of fat for delicious flavor without being too greasy.
Now, I know you hear cauliflower rice and automatically think it's going to be boring, but trust me when I say you won't even miss the real deal. It's got the perfect bite to it, and my secret? I sauté the cauliflower rice with a little onion and garlic, and I promise you'll forget you're eating a veggie! Plus, if you haven't already jumped on the cauliflower bandwagon, now's your chance.
Okay, back to our tacos. Browning the turkey is a piece of cake! I like to season it with some chili powder, cumin, and oregano. It gives it that zesty kick we all love in a taco. Once it's cooked, be sure to drain any excess grease before spooning it onto your taco shells. We're going for healthy here, remember?
Finally, the pièce de résistance – toppings! This is where the magic really happens. Beyond your delicious cauliflower rice, you can never go wrong with classics like avocado, tomato, and some mouth-watering salsa. Heck, throw on a pinch of cheese if you're in the mood!
Trust me, once you plate these turkey tacos with cauliflower rice, it'll be a culinary masterpiece you and your loved ones will rave about! And who knows, maybe it'll even become a staple in your home. Happy cooking!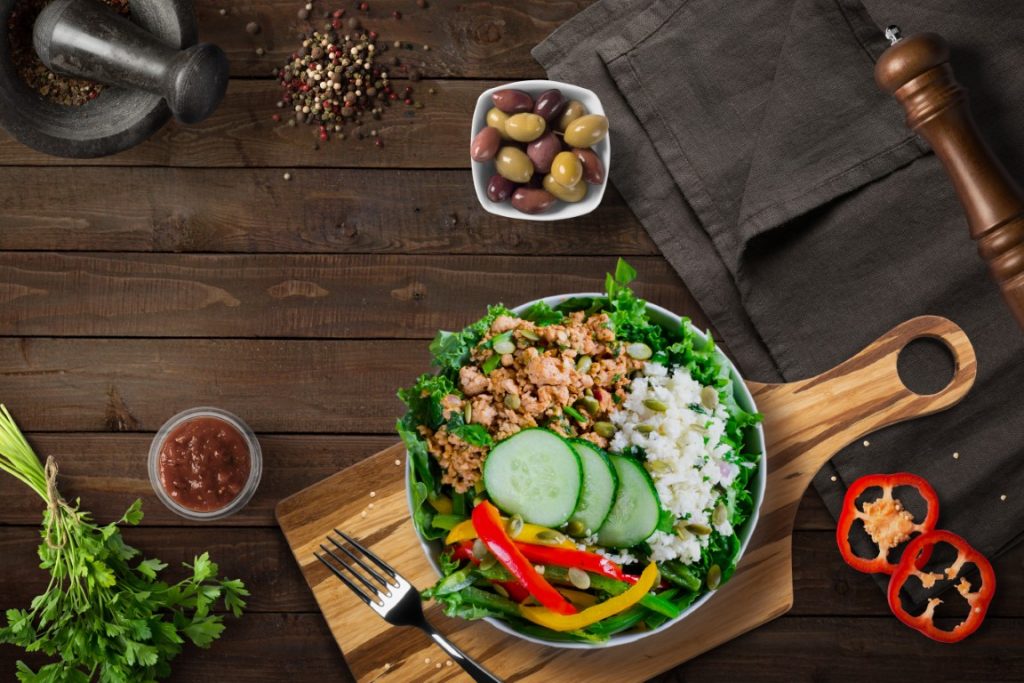 Gather ingredients:
1 lb ground turkey (93% lean)
1 tablespoon olive oil
1 small onion, finely chopped
2 cloves garlic, minced
1 teaspoon chili powder
1 teaspoon ground cumin
1/2 teaspoon dried oregano
Salt and pepper, to taste
1 medium head cauliflower, riced (about 4 cups)
Taco shells or lettuce wraps
Toppings: avocado, tomato, salsa, cheese, cilantro, lime wedges, etc.
Prepare cauliflower rice:
Remove the leaves and stem from the cauliflower, roughly chop.
Pulse in a food processor in batches, until small rice-sized pieces are formed.
Set aside.
Cook ground turkey:
Heat oil in a large skillet over medium heat.
Add onion and garlic, sauté for 2-3 minutes until fragrant.
Add ground turkey, break into small pieces with a spatula.
Season with chili powder, cumin, oregano, salt, and pepper.
Cook until turkey is browned and cooked through, about 5-7 minutes.
Drain any excess grease from the skillet and set aside.
Cook cauliflower rice:
In the same skillet, add the riced cauliflower.
Sauté over medium heat for 5-7 minutes, stirring occasionally, until tender.
Season with salt and pepper to taste.
Assemble tacos:
Warm taco shells or lettuce wraps in the microwave or oven.
Spoon cooked turkey into shells or wraps.
Top with cauliflower rice and your choice of toppings.
Serve with lime wedges for squeezing over the top.
Enjoy your delicious Turkey Tacos with Cauliflower Rice!
That was fresh!