Whew! There's nothing quite like the zingy joy of crafting that perfect Lemon Meringue Pie, y'know? Pouring love and whisk-whirls into the bowl, it's the perfect pièce de résistance for any potluck or dinner party. Heck, it puts the 'zing' in amazing – that's what I always say!
First off, there's the thrill of crushing up those peevish little graham crackers for the pie crust. You've gotta get 'em just right – not too chunky. Ah, the challenge! And lemme tell ya, the aroma of them crackers baking to a toasty brown, it would charm the socks off the most seasoned food critic.
But wait, it gets better. Here's where the magic happens – the tangy, tantalizing lemon filling! Can't beat the tang that comes from squeezing fresh, sun-kissed lemons. Their sunny yellow juice bursts bright into the bowl, mixing with sugary sweetness to form a symphony of taste. Of course, jabbing a finger in for a cheeky taste is a must. After all, a cook is only as good as his or her sneak-peek tastings!
However, the pie de resistance, the fluffy meringue on the top, is a sight to behold. Beating those egg whites into submission till they're snow-capped peaks of fluffy goodness can be as persnickety as a cat's whiskers.
Slapping that pie in the oven and waiting for it to do its magic is pure torture but, oh boy, when that timer rings, the anticipation is white-hot. The grand reveal of a perfect Lemon Meringue Pie – now that's worth every smidgen of effort.
Why, you ask, do I put myself through this culinary rollercoaster? Simple – for the smiles, the oohs, the aahs, and the more, please! And trust me, there's no sweeter reward.
Sure thing! Here is a straightforward Lemon Meringue Pie recipe: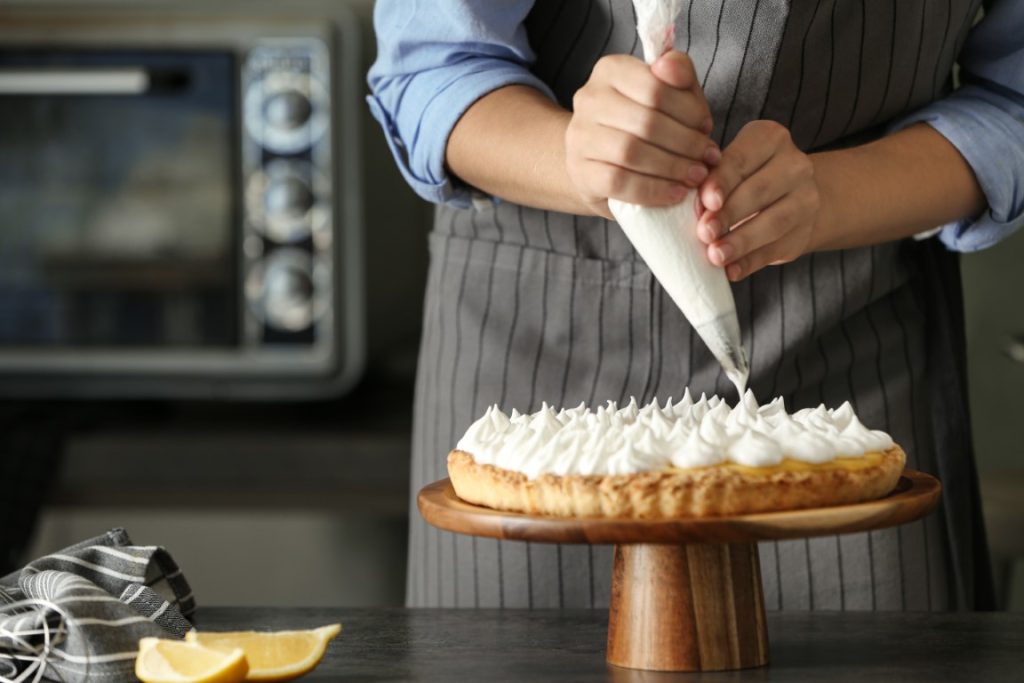 For the Crust:
Preheat oven to 350°F.
Combine 1.5 cups of graham cracker crumbs with 6 tablespoons of melted unsalted butter and a pinch of sea salt.
Press this mixture firmly into a 9-inch pie plate, and bake for 8-10 minutes, until golden brown. Set aside to cool.
For the Lemon Filling:
In a pan, combine 1 cup of granulated sugar, 2 tablespoons of all-purpose flour, 3 tablespoons of cornstarch, and a pinch of salt.
Stir in 1.5 cups of water, 2 lemons' worth of zest and juice.
Cook over medium-high heat, stirring frequently, until mixture comes to a boil.
Stir in 2 tablespoons of butter and remove from heat.
For the Meringue:
Beat 4 egg whites until foamy in a large glass or metal mixing bowl.
Slowly add 6 tablespoons of granulated sugar, continuing to beat until stiff peaks form.
Spoon the meringue over the pie, making sure it touches the crust all around to prevent it from shrinking.
Bake in the preheated oven for 10 minutes, or until the meringue is golden brown.
Allow to cool at room temperature for about an hour and then refrigerate for at least 2 hours before serving. Enjoy!
Do remember – always adjust to taste, your palate knows best!
That was fresh!