Oh, meatloaf! You might remember it as that dry, bland lump dominating your dinner plate during childhood, but trust me, there's so much more to it than that. When it's done right, meatloaf holds court at the dinner table as the centerpiece of a hearty and delicious meal, enjoyed by everyone – and I get a kick out of bringing this tasty treat to life.
First things first, don't bother with a boring pre-packaged meatloaf mix – you gotta kick it up a notch! Roll up your sleeves, fire up the oven, and let's dive into Mama's secret recipe for marvelous meatloaf mastery.
Start off by gathering your ingredients: a couple pounds of ground meat – personally, I like mixing things up with half beef and half turkey – eggs, breadcrumbs, and some milk. Here's the secret, though: pop in a little bit of grated Parmesan cheese. Trust me, it'll make your meatloaf sing.
Now for the fun part! There's nothing quite like getting your hands dirty, so plunge in and mix everything 'til it's combined – but don't overdo it, kiddo, or you'll end up with a brick instead of a meatloaf. Just mix it to the point where everything's barely holding together.
Once it's mixed, shape it into a loaf on a greased baking sheet. You could use a loaf pan, sure, but I've found it's better to let that baby breathe, so it cooks evenly and doesn't get too soggy – after all, who wants a soggy bottom?
And what's meatloaf without an interesting glaze? While some folks might settle for boring ol' ketchup, personally, I opt for a zesty combo of ketchup, mustard, and Worcestershire sauce. It gives this classic dish a little extra somethin'-somethin'. Just spread that on top, and your masterpiece is ready for the oven!
Bake it to perfection at 350°F, and in no time, you'll be pulling out a spectacular, mouthwatering feast that'll have your family coming back for seconds or even thirds. Now, that's what I call the magic of meatloaf!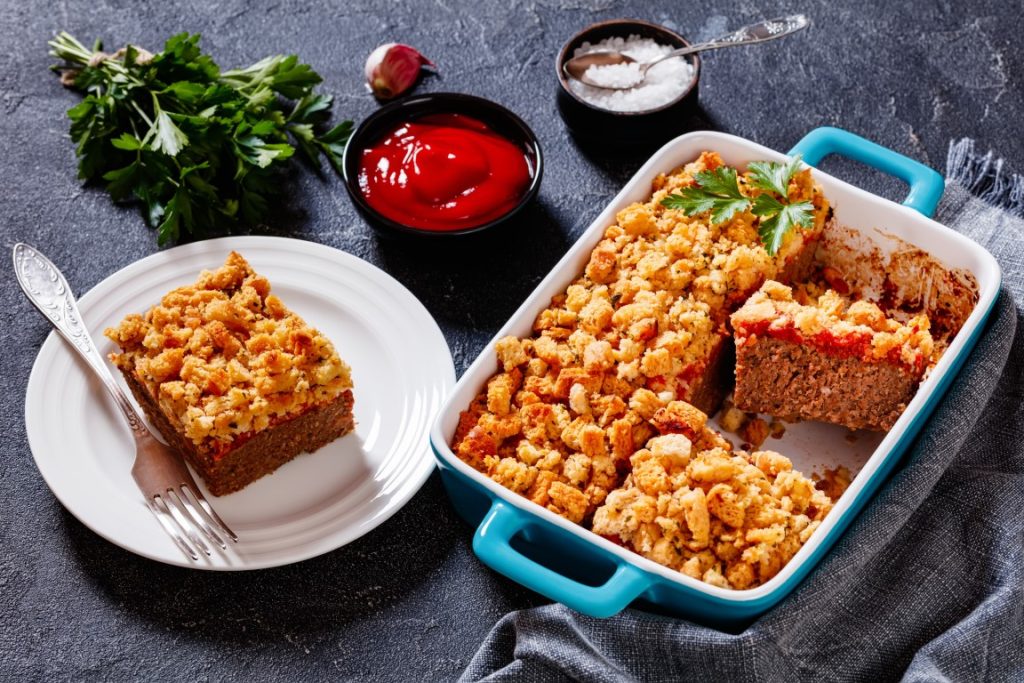 Gather ingredients:
1 lb ground beef
1 lb ground turkey
2 eggs
1 cup breadcrumbs
3/4 cup milk
1/2 cup grated Parmesan cheese
1/2 cup finely chopped onion
2 cloves minced garlic
1 tsp salt
1/2 tsp black pepper
1/2 tsp dried thyme
1/2 tsp dried parsley
For the glaze, mix:
1/2 cup ketchup
2 tbsp mustard
1 tbsp Worcestershire sauce
2 tbsp brown sugar
Instructions:
Preheat oven to 350°F (175°C) and grease a baking sheet or loaf pan.
In a large mixing bowl, combine ground meat, eggs, breadcrumbs, milk, Parmesan cheese, onion, garlic, salt, black pepper, thyme, and parsley.
Using your hands, mix ingredients until just combined. Be careful not to over-mix.
Place mixture onto the greased baking sheet, shaping it into a loaf, or press into the greased loaf pan.
Spread glaze evenly over the top of the meatloaf.
Bake for 1 hour to 1 hour and 15 minutes, or until the internal temperature reaches 160°F (71°C).
Remove from the oven and let it rest for at least 10 minutes before slicing and serving.
Enjoy your mouthwatering homemade meatloaf!
That was fresh!