Whew! Now that's a mouthful, and so is the tantalizing culinary creation I'm about to spill the beans on. So, buckle in folks, we're embarking on a mouthwatering adventure.
Chicken Cacciatore, my go to comfort food whenever life hands me lemons. It's hearty, rich and guaranteed to leave your taste buds doing the rumba.
This dish, truth be told, was borne out of my parents' teaching to always make do with what's kicking around the kitchen. I mean, seriously, who doesn't love a little improvisation? Roll up those sleeves, it's time to cook from the heart.
Start by kissing the chicken pieces with a touch of salt and pepper. Then I sear 'em in hot olive oil till they're browned to perfection, tantalizing my senses with their delightful sizzle. Get ready, you're in for a real treat!
Next, those aromatic veggies take the limelight. Onions, garlic, bell peppers, mushrooms… all sautéing together, creating an intoxicating mixture. You can practically hear them singing: Toss in that chicken, chef, we're ready to party!
In goes the chicken, bathing in the medley of salivated-inducing goodness. Tomatoes, red wine, and a sprinkle of herbs cascade in, introducing a symphony of flavors that have me saying, Mamma mia!
The pot simmers gently, tantalizing the room with wafts of soon-to-be-devoured deliciousness. It's not quite ready yet, but good things come to those who wait, don't they?
As it's bubbling away, I'm mentally congratulating myself, pretty pleased as punch. Man, I tell ya, there's nothing quite like the joy of transforming humble ingredients into a masterpiece. The movie might make out that 'the rat made the ratatouille', but here, in my kitchen, it's all me – 100% culinary artist!
As the final ingredient – a generous handful of olives – drops into the pot, my masterpiece is complete. Served over a steamy bed of pasta, my Chicken Cacciatore is worth every penny, every minute, every taste-test. Pardon me while I feast – I believe I've earned it.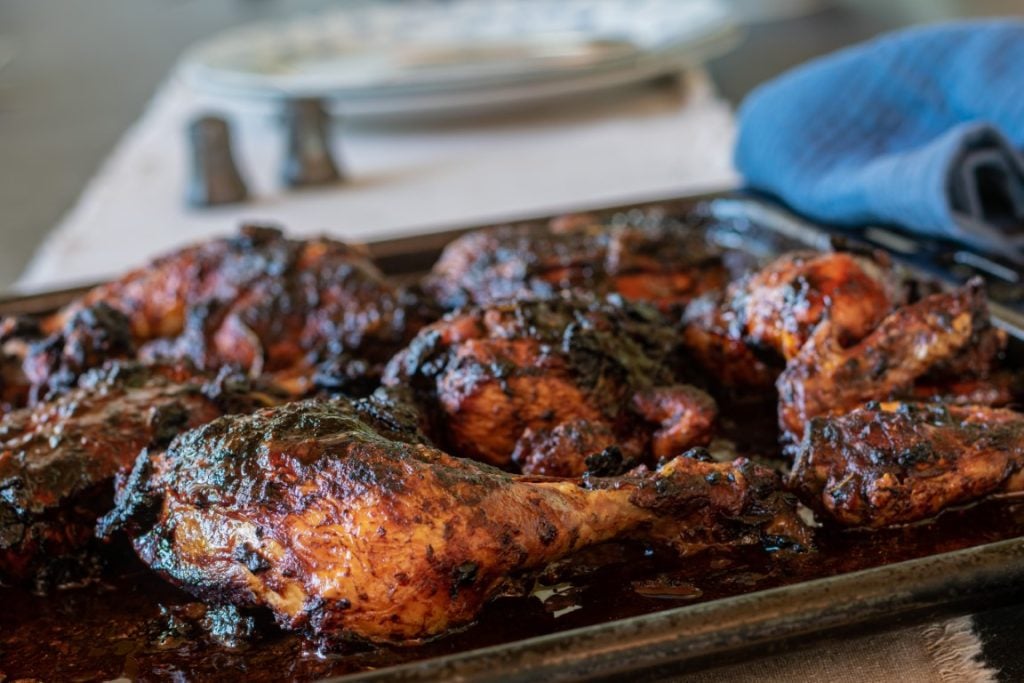 Start off by seasoning four chicken breasts with salt and pepper.
Heat up two tablespoons of olive oil in a large skillet over medium-high heat.
Add chicken to the skillet and sear both sides until golden brown, approximately 4-5 minutes per side. Remove chicken and set it aside.
In the same skillet, pour some more oil if necessary then add one diced onion, one red bell pepper sliced into thin strips, and two cloves of minced garlic.
When the onions become transparent, add in eight ounces of sliced mushrooms.
Sauté the mixture until the mushrooms are light golden brown.
Stir in a can of diced tomatoes, 3/4 cup of red wine, 3/4 cup of chicken broth, and a teaspoon each of dried basil and oregano.
Return the chicken to the skillet, immersing it in the sauce.
Reduce heat to low, cover the skillet, and let it simmer for about 30-40 minutes until the chicken is cooked thoroughly.
Towards the end, stir in half a cup of sliced black olives, then cover again and cook for another 2-3 minutes.
Before serving, sprinkle chopped fresh parsley over the dish.
Serve the chicken with the sauce on a bed of your favorite pasta or rice.
Just perfect! Enjoy this classic Italian comfort food with your loved ones.
That was fresh!