Morning, everyone! Look, if there's one thing I live for, it's cooking up a storm for my dear ones and blowing them away with a heavenly brunch. Now, I can't think of anything that screams gourmet brunch louder than Eggs Benedict, can you? Of course, we're not just traditional over here; we're doing it with a twist – introducing Smoked Salmon and Dill!
So here I was this past Sunday, up with the sun ready to tackle my latest culinary escapade. To be honest, I had a bit of a gut feeling, you know. I had this hunch that my kitchen was going to witness some pure magic and boy, wasn't I right?
Moving straight ahead, what really packs a punch here is the smoked salmon. It adds this savory depth that isn't just your regular Joe Eggs Benny. Plus, the dill's fresh zest is lettuce to my burger, the yin to my yang – I mean, it's a game-changer!
Now then, let's talk Hollandaise, shall we? It's always been my Achilles' heel– either too runny, too thick, or just plain separated. But this time, armed with my trusty sous vide (a Christmas gift from yours truly), there was no stopping me. And well, maybe it was me being over the moon or was it actually that creamy texture of the sauce? Ah, it was euphoria!
But, folks, remember – we've all had our share of kitchen fiascos. I mean, look at me, pretty much tripping over my own two feet in the beginning. But now, I feel as proud as a peacock to serve this ever so perfectly poached egg on an English muffin, topped with smoked salmon, dolloped with dill-infused hollandaise. It's a confluence, a symphony, a marvel!
So the next time you think about cooking for your loved ones, go on, take the plunge. After all, there's no smoke without fire, right? Speaking of smoke, maybe it's time for another round of smoked salmon… Ciao for now, folks! I've got some aromatic dill and eggs calling me from the kitchen! Wink wink!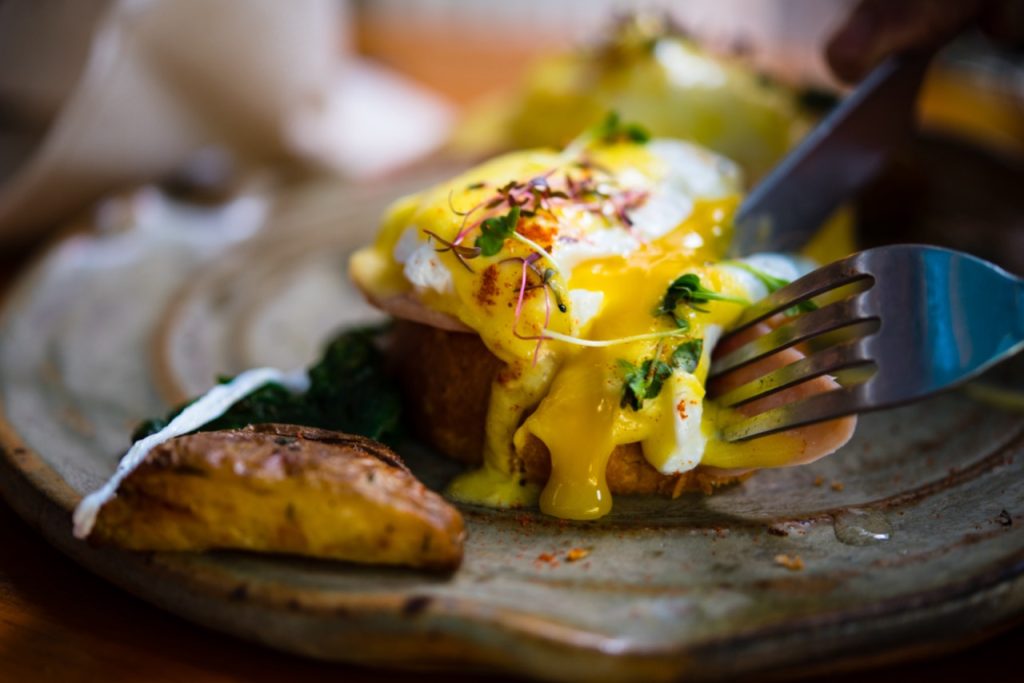 Let's Get To Work!
Start off by gathering the ingredients: Smoked salmon (as per your preference), fresh dill, four egg yolks, 1 tablespoon of lemon juice, 1/2 cup of melted butter, salt as per taste, pepper as per taste, 4 poached eggs, 4 English muffins (halved and toasted), and a pinch of paprika or cayenne powder for garnish.
First, let's prep for the Hollandaise sauce. In your blender, combine egg yolks, fresh dill, lemon juice, salt, and pepper. Blend until smooth.
Now, slowly pour the hot melted butter into the blender while it is running. Continue to blend until the sauce is thick and creamy.
Moving on to the assembly, place your toasted English muffin halves on a plate.
Then, drape a generous amount of smoked salmon over each muffin half.
Carefully place a poached egg on top of the salmon.
Drizzle your homemade Hollandaise sauce generously over the poached eggs.
Sprinkle a bit of chopped dill, a pinch of paprika or cayenne powder for a bit of kick and season with salt and pepper as needed.
To finish, garnish each plate with a sprig of fresh dill and serve immediately.
Enjoy your homemade Smoked Salmon Dill Eggs Benedict, a perfect brunch treat!
That was fresh!