Preparing a meal for my loved ones has always been my favorite pastime. Whenever I have a chance to don my apron and get my hands dirty, you can bet I'll come up with something special for everyone around the table. This time, I've decided to put on a little twist on a classic dish by combining two of my favorite ingredients – parmesan and pork! Let me tell you, this Parmesan Crispy Pork Chop recipe is not just a winner, it's a walk-off home run!
You're probably thinking, Oh gosh, another pork chop recipe, but hold your horses! This ain't like any ordinary pork chop. The key to heaven here is that crispy golden crust made of parmesan cheese and breadcrumbs, seasoned with love and a bit of spice. Trust me, your taste buds will dance a happy jig once you take a bite of this bad boy.
Before you set out to create magic in your kitchen, you need to do some prep work. Let's start off by marinating the pork chops with your favorite seasonings. I like to use something spicy to give it a little kick. But hey, it's your show – feel free to experiment! Once that's done, set them aside while you work on the heart-stopping, OMG, this is epic crust!
Mix equal parts of grated parmesan cheese and breadcrumbs—go easy on the salt because parmesan packs a punch. Don't skimp on seasoning the mixture, though: some garlic powder, paprika, and a pinch of black pepper usually do the trick.
Now, the secret to making this crust work like a charm is double-coating the chops. Dip those juicy chops into an egg wash and then give them a generous roll around in that delectable, cheesy mixture. Repeat the process to ensure every nook and cranny is covered in crispy, cheesy goodness.
Now, heat up some oil in a skillet and fry those babies up—about 3-4 minutes on each side should do it. Oh man, the aroma filling your kitchen will make your mouth water! Thank goodness they cook fast, huh?
Voila! There you have it, folks. Parmesan Crispy Pork Chops that'll make your family hoot and holler for seconds. Pair them with some steamed veggies or a crisp salad to balance out your meal. I must warn you – prepare to be crowned the king or queen of dinnertime!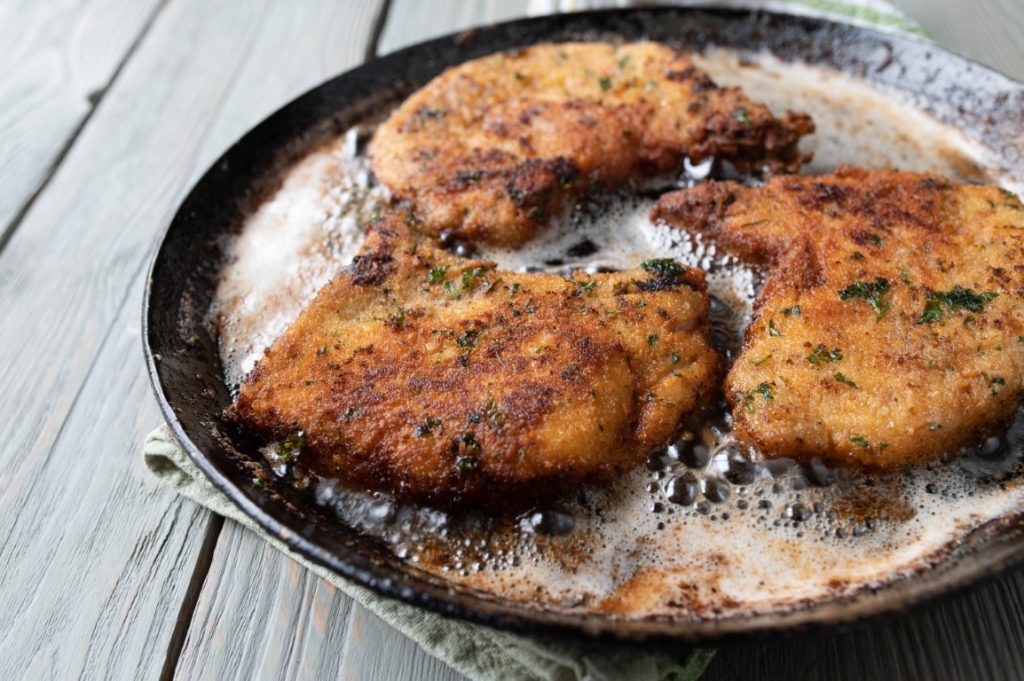 Gather ingredients for the marinade: your favorite seasonings, such as spicy blends or other preferred flavor profiles.
Prepare the pork chops by marinating them in your chosen seasonings. Ensure each chop is well coated and let them sit for at least 30 minutes, or even better, overnight in the refrigerator.
In a separate bowl, mix equal parts grated Parmesan cheese and breadcrumbs. Add in desired seasonings like garlic powder, paprika, and a pinch of black pepper. Mix well.
Prepare an egg wash by whisking together eggs and a splash of milk in a shallow dish.
Preheat your skillet with oil on medium-high heat.
To coat the marinated pork chops, first dip them into the egg wash, ensuring they are fully covered.
Next, press the egg-washed chops into the Parmesan-breadcrumb mixture, pressing firmly to help it adhere to the meat.
Repeat the egg wash and breadcrumb steps once more for a thicker crust.
Carefully place the double-coated chops into the heated skillet. Cook for about 3-4 minutes on each side or until the crust is golden brown and the chops are cooked through.
Remove the cooked pork chops from the skillet and let them rest for a few minutes on a paper towel-lined plate to absorb any excess oil.
Plate your Parmesan Crispy Pork Chops and serve them with your choice of sides like steamed vegetables, a crisp salad, or even creamy mashed potatoes. Enjoy your delicious, homemade dinner!
That was fresh!