You know what I adore? I mean, aside from the sound of laughter echoing through the house as my family devours a scrumptious meal? It's when I whip up my Cheesy Macaroni masterpiece that it feels like I've struck gold! It's the real deal, folks, with a medley of flavors so vibrant, it makes your taste buds dance with glee!
Now, let me tell you how I work my magic with some elbow macaroni, a blend of mouthwatering cheeses, and a pinch of love! Alrighty then, my trusty sidekicks for this culinary adventure are none other than milk, butter, and a piquant sprinkle of nutmeg to give it that oomph. After all, shouldn't every creation have a little somethin' somethin'?
First thing's first, I boil a big ol' pot of water for the macaroni. It's important to let the pasta cook 'til it's al dente. Oh, how I savored the sight of it bubbling away! Meanwhile, I got down to the nitty-gritty of whipping up the oh-so-glorious cheese sauce. In a saucepan, I melted butter and stirred in some flour to create a smooth, thick roux. Then, the magic truly begins. With a gentle hand, I carefully poured in my milk, whisking relentlessly to keep that sauce silky.
Now here comes the pièce de résistance – the cheeses! I soared through the kitchen, armed with a handful of shredded cheddar, gruyère, and a pinch of parmesan, tossing them into the sauce like a toppled deck of cards. Finally, a dash of salt, pepper, and that very pinch of love, AKA nutmeg, transformed this saucy concoction into a thing of beauty.
Once the macaroni is cooked, I drain it and mix in my cheesy elixir, folding it all together to make sure each piece is hugged by that heavenly sauce. There you have it folks, my homemade Cheesy Macaroni, guaranteed to make your heart sing as you gather around the table, savoring each bite with your nearest and dearest! Bon appétit!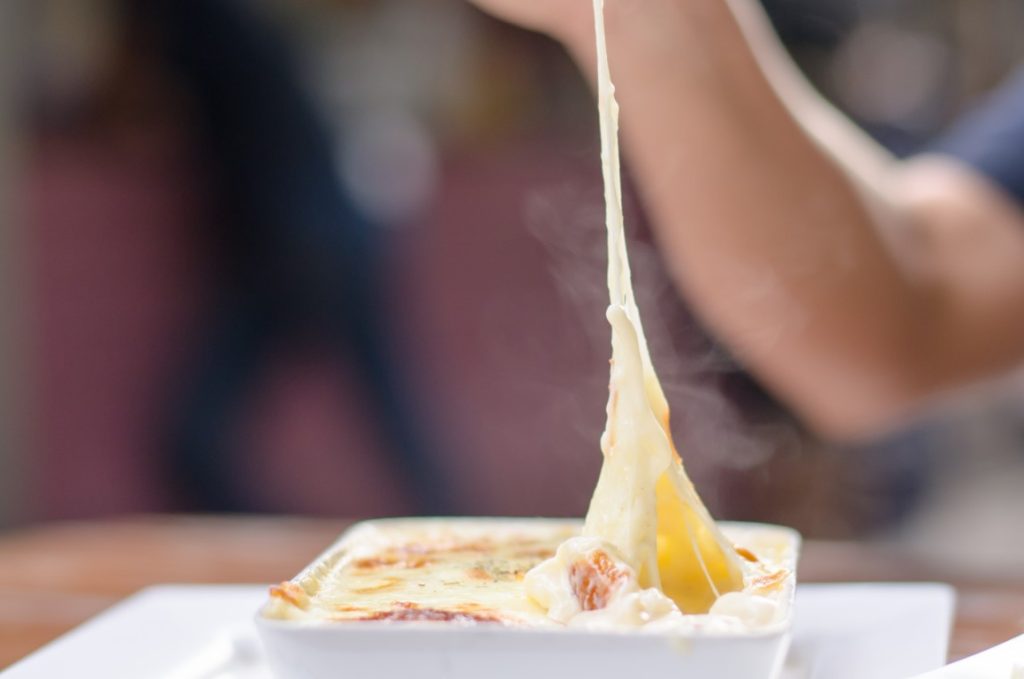 Gather the following ingredients:
8 ounces elbow macaroni
2 cups shredded sharp cheddar cheese
1/2 cup grated gruyère cheese
1/4 cup grated parmesan cheese
3 cups milk
1/4 cup unsalted butter
1/4 cup all-purpose flour
1/2 teaspoon salt
1/2 teaspoon ground black pepper
1/4 teaspoon ground nutmeg
Boil a large pot of salted water.
Add the macaroni to the boiling water and cook until al dente, stirring occasionally.
Drain the cooked macaroni and set aside.
In a separate saucepan, melt the butter over medium heat.
Whisk the flour into the melted butter to create a roux, cooking for about 2 minutes.
Slowly add the milk to the roux, whisking continuously to incorporate and avoid any lumps.
Continue to cook the sauce over medium heat, stirring occasionally, until it thickens.
Reduce heat to low, and gradually stir in the cheddar, gruyère, and parmesan cheeses.
Season the cheese sauce with salt, pepper, and nutmeg.
Stir the cooked macaroni into the cheese sauce, ensuring that every piece is evenly coated.
If desired, transfer the macaroni and cheese to a baking dish, top with more grated cheese and breadcrumbs, and broil for a few minutes until golden and bubbly.
Serve the cheesy macaroni immediately, and enjoy the delicious, comforting flavors with family and friends.
That was fresh!