Have you ever found yourself in a rut, cooking the same ol' recipes for family and friends? Well, that was me not too long ago, until I stumbled upon the most heavenly recipe known to mankind – Chicken Crispy Meatballs! Oh, I can hardly contain my excitement when I think about all the marvelous flavors and textures that come together in these blissful little morsels.
Now, before you think I'm going off the deep end, let me tell you that these bad boys are not your regular run-of-the-mill chicken meatballs. They're actually coated in crispy breadcrumbs, adding that perfect crunch to every bite. And just when you thought it couldn't get any better, they're filled with delicious, gooey cheese on the inside. Talk about a comfort food dream come true!
Whenever I make this mouth-watering dish, I prefer to get my hands dirty and use fresh, organic ingredients that'll make my taste buds sing! Obviously, we'll need some ground chicken and breadcrumbs. But to give it that extra pizzazz, I like to mix in parmesan cheese, fresh parsley, minced garlic and a pinch of red pepper flakes. Make sure you're not stingy with the seasonings—this is where the magic happens!
Alright, enough chit-chat, let's get down to business. After combining all of the ingredients and forming those scrumptious little balls, I dunk them into a heavenly egg mixture before rolling them in a blend of breadcrumbs and parmesan. Trust me, you'll be doing the happy dance while making these!
Into a piping hot skillet they go, sizzling gently in oil until they turn that glorious golden brown. I tell ya, this is where the anticipation kills me! Once they're cooked to perfection, don't forget to drain the excess oil—though really, I can't wait for folks to dig in and enjoy!
Voila! And there you have it, folks! These crispy Chicken Meatballs have been a game changer in my kitchen and they never fail to impress. So give it a whirl and treat your loved ones to a heavenly bite, and try not to swim in the compliments! Bon appétit!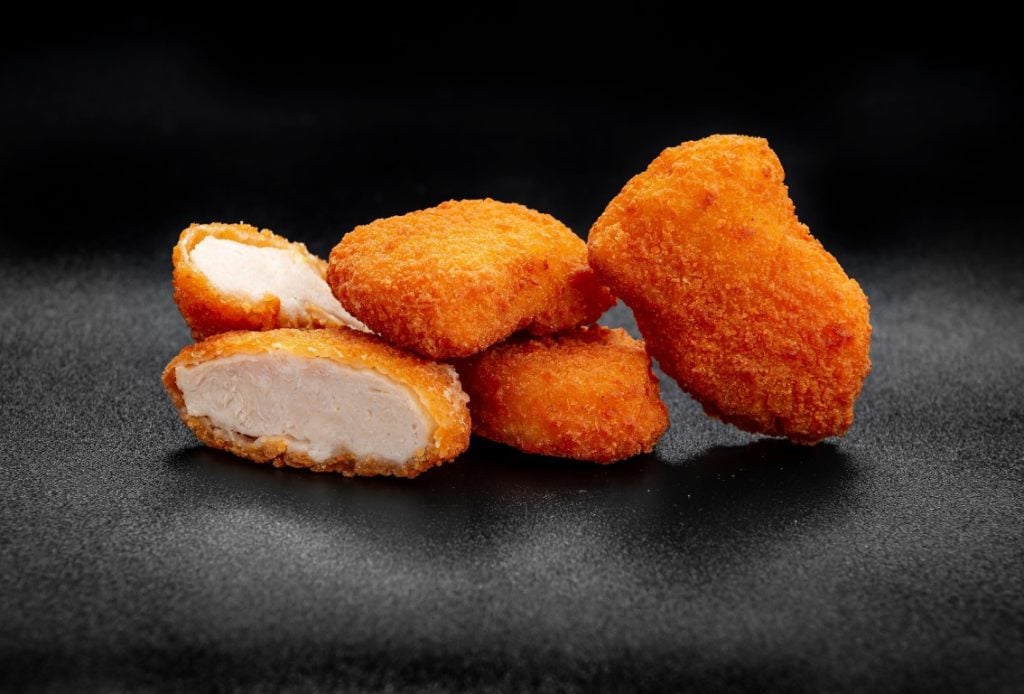 Gather ingredients:
1 lb ground chicken
1/2 cup breadcrumbs, divided
1/3 cup grated parmesan cheese, divided
1/4 cup minced fresh parsley
2 cloves garlic, minced
1/2 tsp red pepper flakes (optional)
Salt and pepper, to taste
1 large egg
2 tbsp milk
Oil for frying
Instructions:
In a large mixing bowl, combine ground chicken, 1/4 cup breadcrumbs, 3 tbsp grated parmesan cheese, minced parsley, minced garlic, red pepper flakes, salt, and pepper.
Mix the ingredients until well combined.
Shape the mixture into small meatballs, around 1 to 1.5 inches in diameter.
Prepare the coating mixture: Whisk the egg and milk together in a shallow bowl.
Combine the remaining breadcrumbs and parmesan cheese in another shallow bowl.
Dip each meatball into the egg mixture, allowing the excess to drip off.
Roll each meatball in the breadcrumb mixture until evenly coated.
Set aside the coated meatballs on a plate or tray.
Heat the oil in a large skillet or frying pan over medium heat.
Fry the meatballs in batches, turning them occasionally until they are golden brown and fully cooked, about 5-7 minutes per batch.
Remove the cooked meatballs from the skillet and let them drain on paper towels.
Serve the Chicken Crispy Meatballs with your choice of dipping sauce or alongside your favorite side dish. Enjoy!
That was fresh!