Ah, the sweet symphony of sizzling pork chops on a hot skillet – music to my ears! I do love a good food experiment, and tonight, I'm whipping up a zesty Asian Chili Pork Chop dish for my dear friends and family. This recipe is an absolute flavor bomb, packing a wallop of fresh, healthy ingredients that'll melt on your tongue and leave you wanting seconds (and maybe thirds!).
So, picture this: I've got my trusty skillet all hot and ready, and I'm just dying to get these pork chops cookin'. The secret to a perfect Asian Chili Pork Chop, my friends? It's all in the marinade, believe me! I kickstart the flavor extravaganza with a delightful combination of soy sauce, garlic, chili flakes, and honey, for just that whisper of sweetness. You know what they say — the longer you marinate, the yummier the dish! That's why I usually leave the pork chops soaking up the marinade overnight, all snuggled up in a bed of ziplock bag.
As the tantalizing wafts of marinated pork fill my kitchen, I turn my focus to the pièce de résistance — the spicy chili sauce! The trick here is to achieve 'the perfect balance' between tangy, sweet, and fiery hot. A splash of lime juice here, a little brown sugar there, and a generous spoonful (or two) of sambal oelek — OH! It's truly the stuff of culinary dreams!
When I hear the sizzle of pork chops morphing into that familiar chorus of 'Is it ready yet?,' I saucily slather the chops in my homemade chili sauce, letting the flavors dwell in perfect harmony.
And finally, when my masterpiece is complete, I serve it alongside a bowl of fluffy jasmine rice, a potential drizzle of fresh cilantro, and voila! Asian Chili Pork Chops – a sizzling, mouth-watering treat that never fails to impress.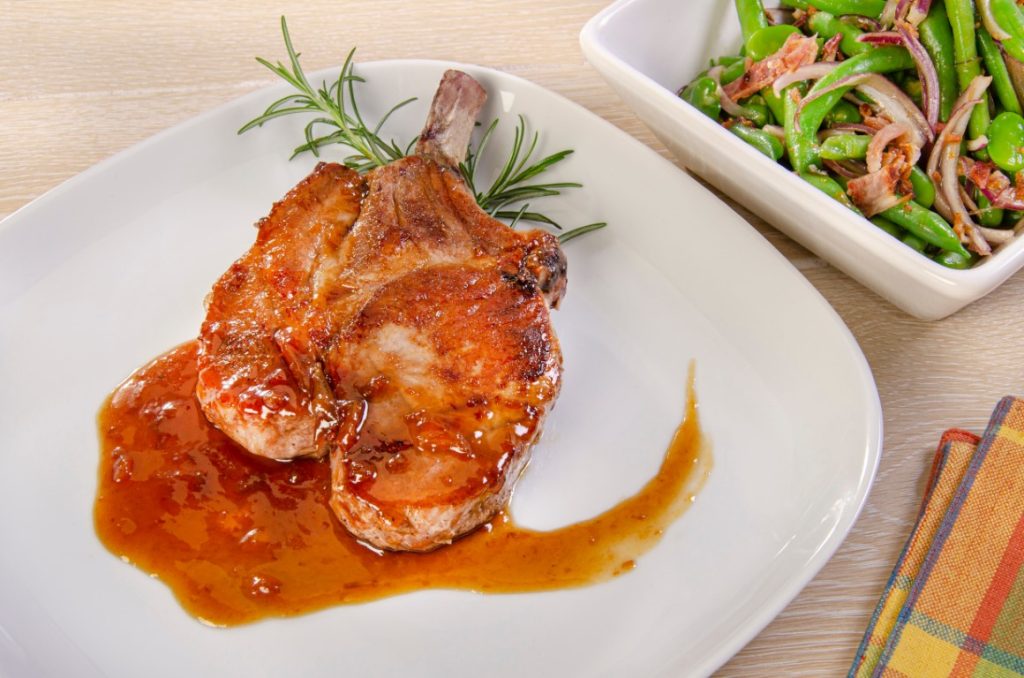 Gather ingredients:
4 boneless pork chops
1/4 cup soy sauce
2 cloves garlic, minced
1 teaspoon chili flakes
2 tablespoons honey
1 tablespoon vegetable oil
1/4 cup lime juice
2 tablespoons brown sugar
2 tablespoons sambal oelek
Cooked jasmine rice, for serving
Chopped cilantro for garnishing (optional)
Create the marinade:
In a large bowl or ziplock bag, combine soy sauce, minced garlic, chili flakes, and honey.
Mix well to ensure even distribution of flavors.
Marinate the pork chops:
Add the pork chops to the marinade, making sure they are fully coated.
Allow the pork chops to marinate in the fridge for at least 2 hours, or (preferably) overnight.
Prepare the spicy chili sauce:
In a small bowl, combine lime juice, brown sugar, and sambal oelek.
Mix well to achieve the perfect balance of tangy, sweet, and spicy flavors.
Cook the marinated pork chops:
Preheat a large skillet over medium-high heat with vegetable oil.
Once hot, place the marinated pork chops in the skillet and cook for about 4-5 minutes per side, or until fully cooked through.
Glaze the cooked pork chops with spicy chili sauce:
Spoon the spicy chili sauce prepared earlier over the cooked pork chops.
Allow the pork chops to cook for an additional 1-2 minutes, flipping once to ensure both sides are well coated.
Serve and enjoy:
Serve the Asian Chili Pork Chops hot alongside a bed of cooked jasmine rice.
Garnish with chopped cilantro, if desired, and savor the delightful flavors of this scrumptious dish!
That was fresh!