Well, let me tell you, there's nothing quite like the hustle and bustle of a lively kitchen when you're preparing Chicken Pad Thai for your loved ones! There's just something magical about the symphony of flavors and the fragrant aroma that fills the air as you toss everything together in your trusty wok.
First things first, I've gotta get my hands on some fresh ingredients. You know what they say, fresh is best! I make a beeline for the local farmers' market, where I pick up tender chicken breasts, crunchy bean sprouts, vibrant red bell peppers, and, of course, those essential Pad Thai noodles.
Now, the secret's in the sauce, if you catch my drift. I whisk together a tantalizing blend of tangy tamarind paste, savory fish sauce, and a pinch of sugar to create that perfect balance of sweet, sour, and salty. Mmm, just thinking about it gets my taste buds tingling!
Alrighty, let's get down to business! I fire up the wok, toss in a drizzle of oil, and sizzle up some garlic and shallots until they're golden and fragrant. Time for the chicken to hit the pan! I cook it until it's just right – no one wants rubbery chicken, am I right?
Once that's done, I slide in the noodles and veggies, giving them a quick stir-fry before adding my lip-smacking sauce. In goes a generous handful of chopped peanuts for a delightful crunch, and we're almost there!
As the dish comes together, I step back for a moment to marvel at the beautiful mess I've created. The vibrant colors, the intoxicating smell – it's all so perfect.
Voilà! The pièce de résistance is ready to be served. I dish out hearty portions to my eagerly waiting guests, and we all dig in. This Chicken Pad Thai is truly a wok to remember!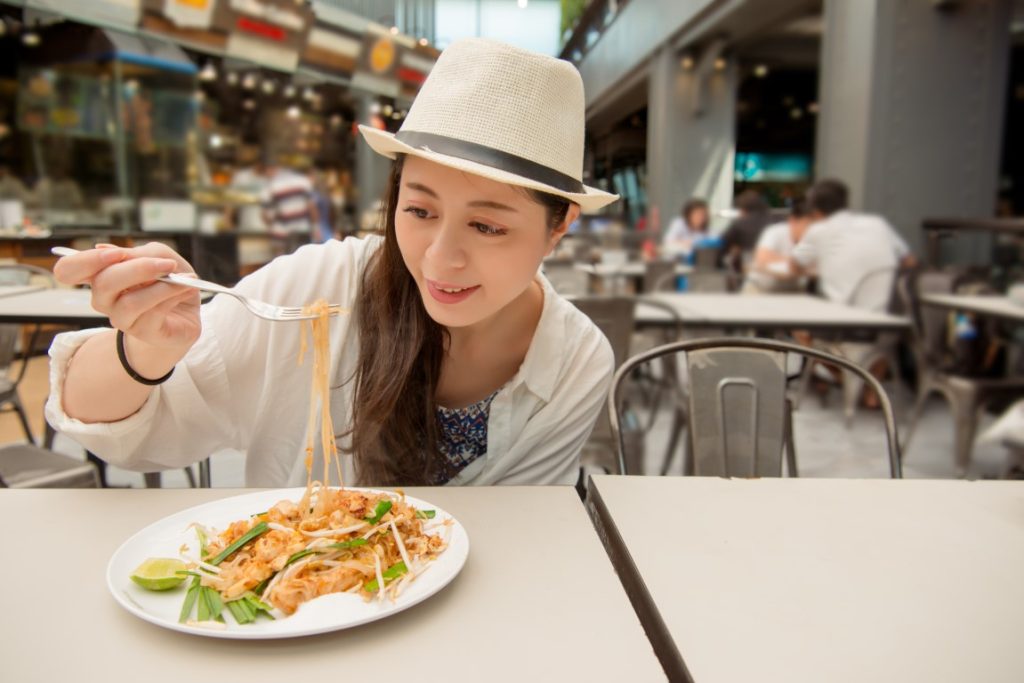 Ingredients:
8 oz. flat, wide Thai rice noodles
1 lb. boneless, skinless chicken breast, sliced into thin strips
2 tbsp. vegetable oil
2 cloves of garlic, minced
1 shallot, sliced (optional)
2 eggs, lightly beaten
1/2 cup roasted peanuts, chopped
1 cup bean sprouts
2 green onions, sliced
1/4 cup fresh cilantro or parsley
Lime wedges for garnish.
For the sauce:
1/4 cup fish sauce
1/4 cup brown sugar
1/4 cup rice vinegar
2 tbsp. soy sauce
1 tsp. tamarind paste (optional)
1 tsp. red pepper flakes (optional)
Instructions:
Soak the rice noodles in a large bowl of cold water for at least 30 minutes.
In a small bowl, whisk together fish sauce, brown sugar, rice vinegar, soy sauce, tamarind paste (if using), and red pepper flakes (if using).
Heat the oil in a large wok or skillet over medium-high heat. Add the garlic and shallot (if using) and cook until fragrant, about 30 seconds.
Add the chicken to the wok and cook until browned and cooked through, about 5-7 minutes.
Push the chicken to the side of the wok and add the beaten eggs to the other side. Cook the eggs, stirring occasionally, until set, about 3-4 minutes.
Drain the rice noodles and add them to the wok. Pour the sauce over the noodles and stir gently to coat everything evenly. Cook until the noodles are tender and the sauce has thickened slightly, about 2-3 minutes.
Add the peanuts, bean sprouts, green onions, and cilantro (or parsley) to the wok and stir everything together.
Serve hot with lime wedges on the side.
That was fresh!