Ah, seafood pot pie – the very thought of it makes my mouth water and my heart sing! You know, there's just something about the tender, flaky pastry crust coupled with that scrumptious, creamy filling that seems to warm the soul, right? Trust me, my family and friends practically lick their plates clean when I whip up this delightful dish.
First things first, the seafood selection is absolutely vital. The world is my oyster (let's be honest, oysters make the cut in this pie, too), and I love experimenting with flavor combinations. I usually incorporate shrimp, crab, cod, and scallops for a delicious mix that screams luxury in every bite! Of course, whatever you pick must be fresh – it wouldn't be the same with some sad, frozen fish, now would it?
Before I spill the beans (no, there are no beans in this pie) on my secret ingredients, I must emphasize the importance of homemade pie crust. Seriously, my friends, don't just settle for store-bought! Rolling up your sleeves and carefully crafting the dough brings that extra, home-cooked touch to your culinary masterpiece. Plus, it's all in the name of love, so the effort won't go unnoticed!
Now, for twist numero uno – diced butternut squash. Believe it or not, adding this veggie to the mix gives the dish a slight sweetness that contrasts the savory seafood flawlessly. The butternut squash's buttery texture also complements the creaminess of the filling.
I mean, who said everything savory needs a pinch of salt? As for twist number two, a sprinkling of fresh tarragon breathes life into the dish with its delicate, slightly anise-like flavor. This underrated herb isn't the star of the show, but it certainly helps elevate those flavors to unimaginable heights!
And there you have it folks! My seafood pot pie with a couple of aces up my sleeve that I love to have on hand for special gatherings. This pie is the epitome of comfort food – every bite feels like a warm hug in my tummy! So go ahead, give it a whirl, and don't be afraid to make it your own! Happy cooking, y'all!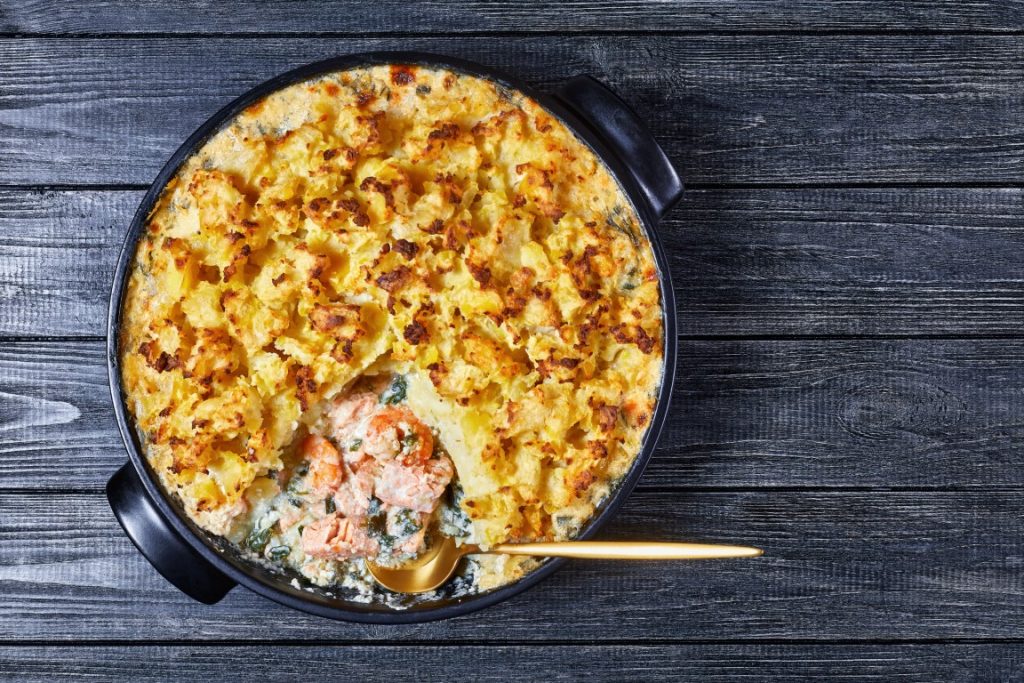 Gather ingredients:
Fresh seafood (shrimp, crab, cod, scallops)
2 cups peeled and cubed butternut squash
1/4 cup fresh tarragon, finely chopped
Pie crust (homemade or store-bought)
1/4 cup butter
1/4 cup all-purpose flour
2 cups whole milk
1/2 cup heavy cream
1/4 cup white wine
2 cups mixed vegetables of choice (diced carrots, peas, corn)
Salt and black pepper, to taste
1/2 tsp paprika
1/2 tsp garlic powder
1 large egg, lightly beaten (for egg wash)
Instructions:
Preheat oven to 375°F (190°C).
Prepare pie crust and set aside. If making a homemade crust, prepare dough, roll out, and line a 9-inch pie dish.
Steam butternut squash until fork-tender. Set aside.
In a large pot, melt butter over medium heat.
Stir in flour to create a roux and cook for 1-2 minutes, stirring constantly.
Gradually add milk and heavy cream, stirring continuously until a thick sauce forms.
Stir in white wine and cook for an additional 2-3 minutes.
Add seafood, cooked butternut squash, mixed vegetables, tarragon, salt, black pepper, paprika, and garlic powder to the sauce. Stir well to combine.
Remove pot from heat, and allow the mixture to cool for a few minutes.
Spoon filling into the prepared pie dish, making sure it's evenly distributed.
Roll out or unwrap second pie crust and lay it over the top of the filling. Pinch the edges of the top and bottom crusts together, sealing the filling inside.
Cut a few small slits in the top crust to allow steam to escape.
Brush the top crust with a light layer of beaten egg (this is called an egg wash, and it ensures a golden-brown crust).
Bake the pot pie in the preheated oven for 45-50 minutes, or until crust is golden brown and the filling is bubbling.
Let the pot pie rest for 10-15 minutes before slicing and serving. Enjoy!
That was fresh!