So, y'all know me – I love nothing more than whipping up scrumptious meals for my friends and loved ones. It just warms my heart watching 'em gather 'round the table, enjoying the fruits of my labor – those smiles, the mmm's, and the oh-so famous Can I have seconds?
Now I've been tossing around the idea of trying my hand at some good ol' fashioned Cajun cuisine. Because let's face it – who doesn't love some spicy goodness? And boy, do I have a treat in store for you! Buckle up, my friends, because I'm gonna teach you how to make the ultimate Cajun Dirty Rice.
Now, of course, the tried and true technique starts with the holy trinity of Cajun cooking – onion, bell pepper, and celery. Lo and behold, your kitchen will come alive with the wonderful aroma of these sautéed veggies. Oh, if only you could bottle it up!
You might be asking yourself, What on Earth makes this dish 'dirty'? Well, it's not the kind you'd gossip about over coffee, thank goodness. It's actually all in the name of flavor, my friends! We're gonna brown some ground beef and pork sausage (like, really brown it, no messing around here). Butter or oil? Take a back seat, please – we've got this dish on lockdown.
Now, this is where the magic happens. The pièce de résistance. Enter the quintessential Cajun seasoning mix, infused with paprika, garlic powder, onion powder, thyme, and Cayenne pepper. Let's just say it's gonna lift this dish to a whole new level of scrumptiousness.
Don't want it bursting with heat? No problem – just tweak the spices to suit. After all, recipes are just a guide. But personally, I say, bring on that fiery kick!
Cook it low and slow, stirring it up now and then. Just hang in there my friends, soon you'll be enjoying a mouthwatering concoction that's bursting with flavor and gonna blow your taste buds straight to the bayou!
So, what are y'all waiting for? Get your aprons on, your spices ready, and let's make some dirty rice that ain't no ordinary dish. It's the kind of meal that'll have everyone talking long after they've licked their plates clean. Bam!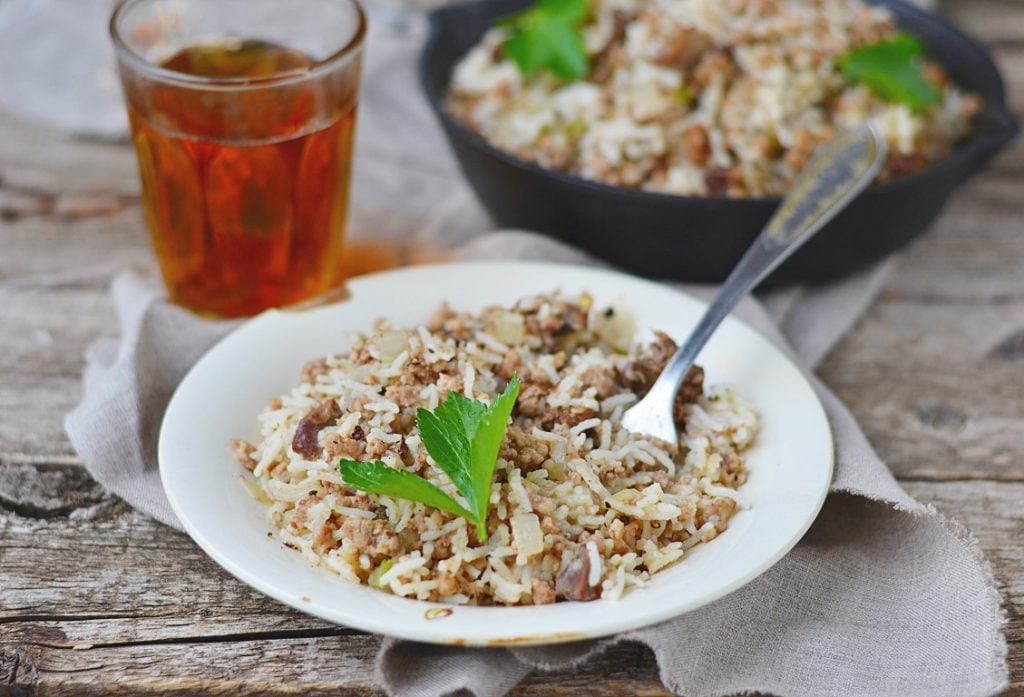 Gather ingredients: 1 cup long-grain rice, 1 tablespoon vegetable oil, 1 small diced onion, 1 diced green bell pepper, 2 stalks diced celery, 2 cloves minced garlic, 1/2 pound ground beef, 1/2 pound ground pork sausage, 2 cups chicken or beef broth, 1 tablespoon Cajun seasoning (paprika, garlic powder, onion powder, thyme, and Cayenne pepper), salt and pepper to taste, 2 thinly sliced green onions for garnish.
Heat oil in a large skillet or Dutch oven over medium heat.
Add onion, bell pepper, and celery, sautéing until softened and fragrant.
Stir in garlic, cooking for about a minute until aromatic.
Add ground beef and pork sausage to the skillet, breaking it up with a spoon and cooking until browned and cooked through.
Drain excess grease if necessary.
Stir in uncooked rice, allowing it to toast slightly, absorbing the flavors for about 2 minutes.
Gradually pour in chicken or beef broth, making sure to scrape any browned bits from the bottom of the skillet.
Stir in Cajun seasoning, salt, and pepper, adjusting the spices to your desired heat level.
Bring the mixture to a boil, then reduce heat to low, cover the skillet, and let it simmer for about 20-25 minutes or until the rice is tender and has absorbed the liquid.
Remove from heat, and let it sit covered for 5 minutes before fluffing the rice with a fork.
Garnish with sliced green onions, serve, and enjoy your homemade kickin' Cajun Dirty Rice!
That was fresh!