Oh my goodness! Do you know what gets me all fired up and whipping up a storm in the kitchen? That's right – it's the sumptuous and mouth-watering aroma of butter chicken simmering away on the stove. Let me tell you, once I start cooking, there's no stopping me. The secret to my butter chicken success, you ask? Well, hold onto your aprons because I'm about to spill the beans.
First things first, I always make sure to grab the freshest ingredients from the market. I reckon nothing can spoil the gravy train of butter chicken like stale ingredients. So, I never forget to pop into the farmer's market for organic tomatoes, ripe and juicy, and never skimp on the local, hormone-free chicken. Trust me on this one – caring about the ingredients is half the battle won.
You know what they say, Preparation is the key to success. In my case, it's marination. I let the chicken soak in all those enticing spices and yogurt, overnight if possible. Here's a tidbit of advice for you – patience is a virtue, and good things come to those who wait.
Now, you might find this a tad surprising – I go easy on the butter! To put it simply, butter doesn't have to steal the whole show, even though this dish has its name. I use ghee in a jiffy, which adds that unique rich flavor while also keeping things a little lighter – heavens, who knew we could find a balance in butter chicken?
My guests always manage to polish off every last morsel, and I bask in the satisfaction of preparing a dish that brings people together. Hosting dinner parties and cooking up a storm is a labor of love – and butter chicken happens to be that star dish that always makes a splash! So here's to cooking, connecting, and plate-licking delicious butter chicken!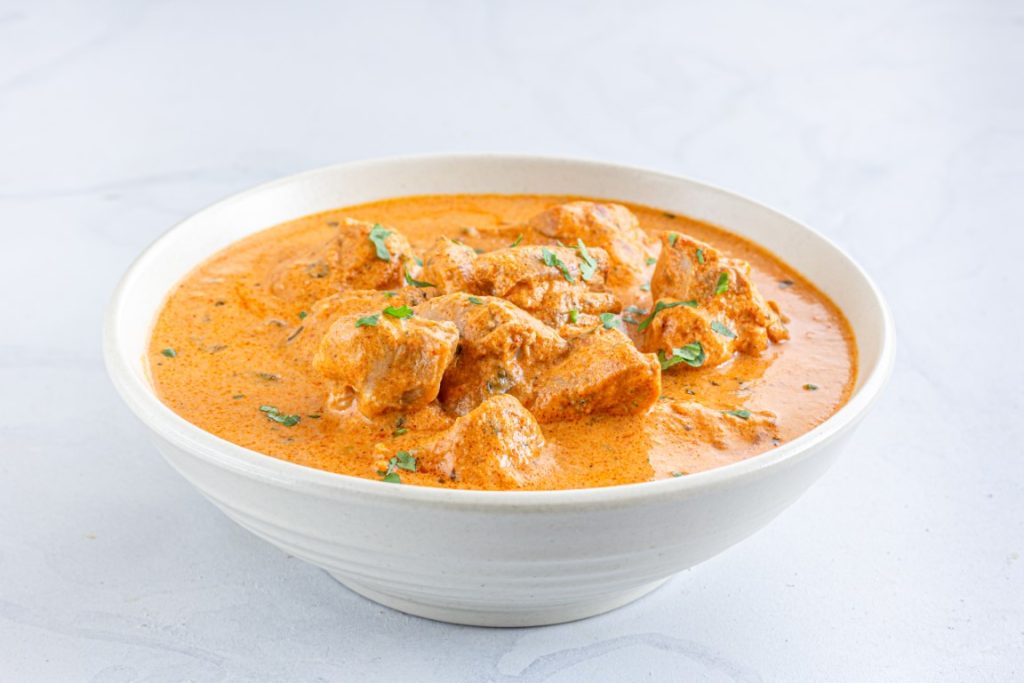 Gather your ingredients:
2 lbs boneless, skinless chicken, cut into bite-sized pieces
1 cup plain yogurt
2 medium-sized onions, finely chopped
6 tomatoes, pureed
3 cloves garlic, minced
2 tsp grated ginger
1 tbsp ghee (or unsalted butter)
1 tbsp vegetable oil
Spices: 2 tsp garam masala, 2 tsp turmeric, 2 tsp cumin, 2 tsp coriander, 1 tsp red chili powder, 1 tsp paprika, 1/4 tsp cinnamon, salt to taste
1 cup heavy cream
Fresh coriander leaves, for garnish (optional)
Marinate the chicken:
In a bowl, mix chicken pieces with yogurt, 1 tsp turmeric, 1 tsp garam masala, and salt.
Cover and refrigerate for at least 1-2 hours, but overnight is preferable.
Prepare the sauce:
Heat oil in a large pan over medium heat; add chopped onions, and sauté for 5-7 minutes until translucent.
Add garlic and ginger, cook for another 1-2 minutes.
Stir in remaining spices: 1 tsp garam masala, 1 tsp turmeric, cumin, coriander, red chili powder, paprika, and cinnamon. Cook for 2-3 minutes, allowing the spices to be fragrant and roast evenly.
Mix in tomato puree, cook for 5-6 minutes until the sauce thickens.
Lower heat, then add in heavy cream, stir well, and simmer for 5 minutes.
Cook marinated chicken:
In another pan, heat ghee over medium heat.
Cook marinated chicken pieces for 5-7 minutes for each side, until they are cooked through and slightly browned.
Combine chicken and sauce:
Add cooked chicken pieces into the sauce, letting everything simmer together for 10-15 minutes on low heat, until the flavors meld together.
Garnish and serve:
Taste and adjust salt if needed.
Remove from heat, garnish with fresh coriander leaves if desired, and serve hot with basmati rice or naan bread.
That was fresh!