You know, there's just something about whipping up a scrumptious vegetable dip that warms my soul. It's not just the vibrant colors or the satisfying crunch of fresh veggies, but that moment when my loved ones dive in – pure delight!
Well, I rolled up my sleeves, on a fine and dandy hunch. I gathered ingredients with the plan to create a veggie dip masterpiece. I'm talking about a flavor fiesta that'll have your taste buds singing hallelujah. After some trial and error, I found the perfect mix and boy, was it a hit!
Now, you might be wondering, what's the secret ingredient? Well, my friends, it's none other than Greek yogurt! A little unconventional, I know, but this tangy powerhouse gives the dip a mouthwatering creaminess that you wouldn't believe! Plus, it's packed with protein, making it the perfect healthy choice.
Anyway, back to the task at hand. With the Greek yogurt as my base, I jazzed things up with minced garlic, onion powder, dill, and a touch of parsley. You know what they say, variety is the spice of life. I spiced up the dip with a pinch of smoked paprika and a squeeze of lemon to really get those flavors to shimmy and shake. A tiny matter of salt and pepper to taste, et voila! My tasty creation was complete.
But you can't make a show-stopping dip without the star of the show – the veggie squad! I grabbed an assortment of colorful beauties, such as crunchy bell peppers, zingy radishes, and good ol' reliable carrot sticks. You could practically taste the rainbow! And just like that, a veggie-lover's dream was born.
Sharing my delightful vegetable dip with family and friends was the cherry on top. Laughter, lively conversation, and luscious bites – that's what I call cooking success!
Who knew dip could be so extravagant? Give my yogurt-infused veggie dip a whirl, and indulge in the lively symphony of flavors. Bon appétit!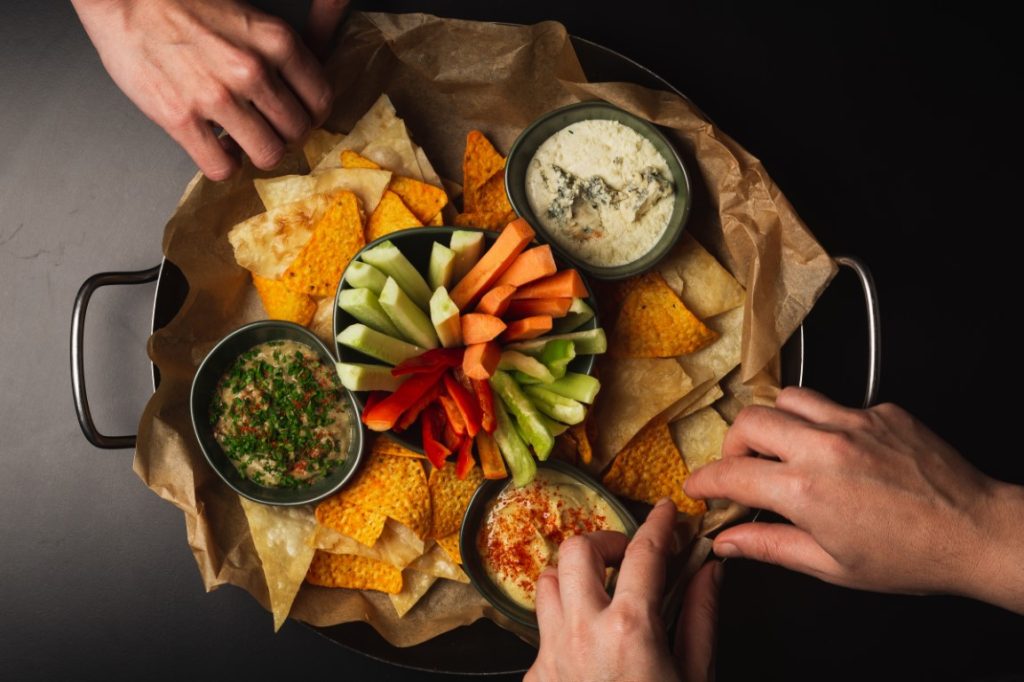 Gather ingredients:
1 ½ cups Greek yogurt
3 garlic cloves, minced
1 tsp onion powder
2 tsp fresh dill, chopped
1 tsp dried parsley
½ tsp smoked paprika
1 lemon, juice and zest
Salt and pepper, to taste
Assorted raw veggies, such as bell peppers, radishes, carrots, and cucumbers
Prepare the base for the dip:
In a medium-sized mixing bowl, add Greek yogurt.
Add flavor components:
Mix in minced garlic, onion powder, chopped dill, and dried parsley.
Incorporate spices and acidity:
Stir in smoked paprika, lemon juice, and lemon zest.
Season to taste:
Add salt and pepper to your liking.
Mix everything well:
Combine all ingredients thoroughly.
Refrigerate the dip:
Cover the mixing bowl and let the dip chill in the refrigerator for at least 30 minutes to allow the flavors to meld together.
Prepare the veggie squad:
While the dip chills, wash, and chop assorted colorful vegetables into bite-sized pieces.
Assemble the platter:
Arrange the chopped vegetables on a large serving platter or tray.
Serve and enjoy:
Place the bowl of chilled vegetable dip in the center of the platter and dig in with your family and friends.
That was fresh!