Ah, nachos! The bee's knees of finger foods, a classic snack, the ultimate party delight – you name it! And guess what? These heavenly bites are hitting my kitchen today, and not just any nachos, we're prepping good ol' hearty ground beef nachos! You better buckle up, my friends – this culinary ride will leave no taste bud untouched!
Now, I know many people assume that nachos are greasy, unhealthy piles of sloppiness one can only order at some dodgy fast-food joint or overpriced stadium. But, let me tell you, homemade is where it's at! With my flair for all things fresh, I'll show you the ropes of prepping these bad boys from scratch.
First things first, let's get down to the nitty-gritty, the star of the dish: ground beef. Get your mitts on the best quality beef you can find, preferably lean. Brown that stuff up in a sizzling skillet while adding a mouthwatering mix of spices – think cumin, chili powder, and garlic. Nobody's taste buds will be left out in the cold!
As our ground beef is getting all spiced up, let's talk toppings 'cause boy, oh boy do we have the power to turn these nachos into a fiesta of flavor! Fresh veggies like juicy tomatoes and crisp bell peppers, all chopped up and ready to bring some cool, crunchy contrast to our warm, seasoned beef.
And now, let's bring on the cheese! Go for a mix of zesty, bold cheddar and creamy, dreamy Monterey Jack, shredded to melty perfection. Mind you, moderation is key with cheese – we are, after all, aiming for healthy nachos.
When it's time to assemble, don't be shy – layer away! Pile on those chips like there's no tomorrow, sprinkle that heavenly beef, and smother it all with cheese. Keep going until your creation boasts layer upon layer of crowd-pleasing deliciousness!
Finally, pop this masterpiece in the oven just long enough to create a melted, gooey, crunchy spectacle that'll make your guests drool, and voila! Ground beef nachos that would make even the most skeptical eater join the cooking-from-scratch bandwagon.
So there you have it, folks! Ground beef nachos that'll leave a lasting, delicious impression on you and your loved ones – here's to healthier finger foods that refuse to skimp on taste! Cheers!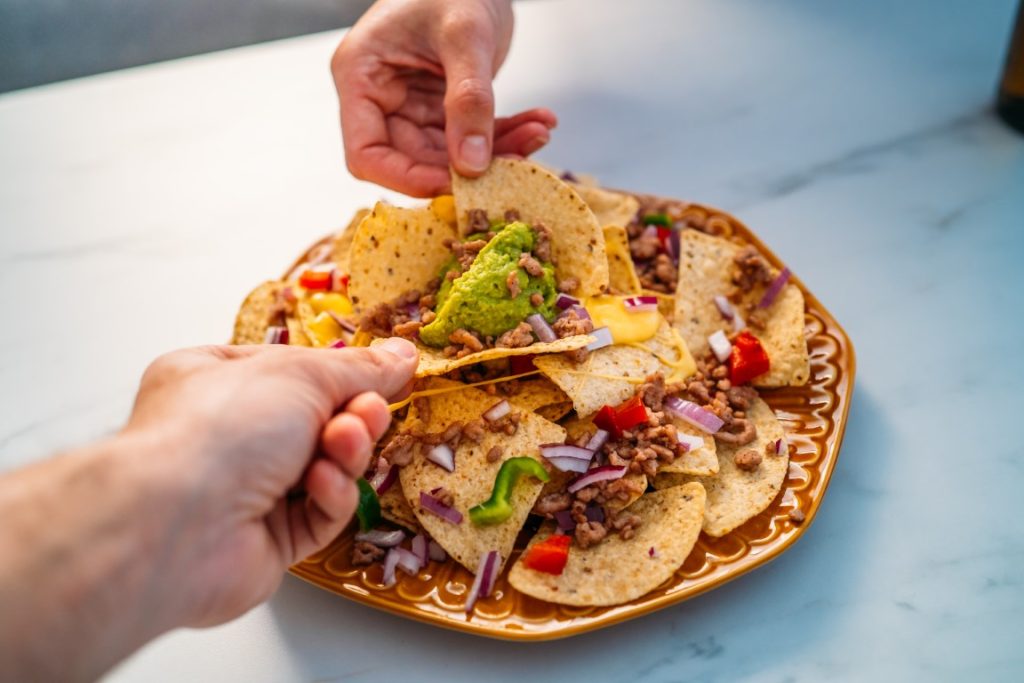 Gather all ingredients: ground beef (1 lb), tortilla chips (1 bag), cheddar and Monterey Jack cheese (2 cups each, shredded), spices (1 tbsp chili powder, 1 tsp cumin, 1 tsp garlic powder, 1/2 tsp salt), and toppings (1 diced tomato, 1 diced bell pepper, 1/2 diced red onion, 1 jalapeño, sliced (optional), and sour cream or Greek yogurt for serving).
Preheat the oven to 375°F.
Heat a large skillet over medium heat.
Add ground beef to the skillet and cook, breaking it up with a spoon or spatula until it's no longer pink.
Drain excess fat from the skillet.
Stir in chili powder, cumin, garlic powder, and salt into the ground beef mixture.
Lower the heat and let it simmer for a few minutes.
Prepare a large baking sheet or oven-safe dish by lining it with aluminum foil.
Spread a layer of tortilla chips evenly on the baking sheet.
Spoon half of the seasoned ground beef over the tortilla chips.
Sprinkle half of the shredded cheddar and Monterey Jack cheese over the ground beef layer.
Add another layer of tortilla chips on top of the cheese layer.
Spoon the remaining ground beef mixture over the tortilla chips.
Sprinkle the remaining shredded cheese on top of the ground beef layer.
Place the baking sheet or dish in the preheated oven.
Bake for 8-10 minutes, or until the cheese is melted and golden.
Remove from the oven and let it cool for a minute.
Add toppings evenly over the nachos: diced tomatoes, bell pepper, red onion, and jalapeño slices, if desired.
Serve with sour cream or Greek yogurt on the side, and enjoy!
That was fresh!