There's nothing quite like the satisfaction of biting into a warm, gooey, perfectly grilled mozzarella sandwich. It's like a little slice of heaven on a plate, and as an avid cook, I've made it my mission to create the most mouthwatering version of this classic comfort food for my family and friends.
First off, when it comes to bread, I'm all about that sourdough! I mean, come on, who wouldn't be? It's got that amazing tanginess, perfectly chewy texture, and just the right amount of crunch when toasted. Of course, feel free to use any bread that floats your boat – it's your sandwich, after all!
Now, let's talk cheese. Mozzarella is a must, obviously, but why stop there? I'm a firm believer in the more, the merrier! So, I like to add a little grated Parmesan to the mix for an extra savory kick. Trust me, your taste buds will thank you!
When it comes to adding some pizzazz to your grilled mozzarella, the sky's the limit. Personally, I love a good pesto spread – it just adds another level of yumminess that can't be beat. If you're feeling extra fancy, go ahead and throw in some sun-dried tomatoes or roasted red peppers.
Oh! Almost forgot the pièce de résistance – a light brushing of garlic-infused butter on the outside of the bread. It'll give your sandwich that unbelievable golden-brown crust that's simply irresistible.
Now, with all your ingredients gathered, it's finally time to turn up the heat and get grilling! Make sure your pan or panini press is preheated and ready to rock'n'roll. Once your sandwich is perfectly toasted and brimming with gooey, melty cheese, all that's left to do is cut into it and get ready for some seriously happy taste buds.
In the end, the quest for the ultimate grilled mozzarella sandwich might be a personal journey, but one thing's for sure – there's no limit to the amazing flavor combinations you can create.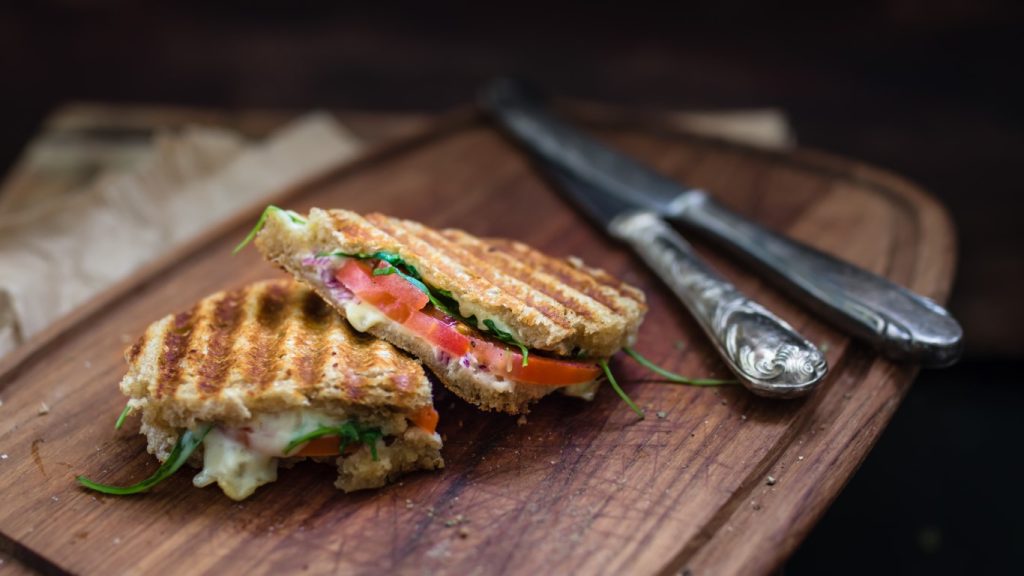 Gather the following ingredients:
Sourdough bread (or any bread of choice)
Fresh mozzarella cheese, sliced
Grated Parmesan cheese
Pesto spread
Sun-dried tomatoes or roasted red peppers (optional)
Garlic-infused butter
Salt and pepper, to taste
Instructions:
Preheat panini press, grill pan, or non-stick skillet on medium heat.
Lay out two slices of bread and spread pesto on one side of each slice.
Arrange sliced mozzarella on the pesto side of one slice of bread, ensuring even coverage.
Sprinkle a generous amount of grated Parmesan cheese on top of the mozzarella.
If desired, add sun-dried tomatoes or roasted red peppers on top of the cheese.
Place the other slice of bread (pesto side down) on top to form a sandwich.
Lightly brush the outside of both slices of bread with garlic-infused butter, and sprinkle with salt and pepper if desired.
Place the sandwich on the preheated panini press or skillet, and cook until the bread turns golden brown and crispy.
If using a skillet, flip the sandwich halfway through cooking to evenly toast both sides.
Remove the sandwich from the heat when the cheese is melted and gooey.
Allow to cool for a minute before cutting the sandwich into halves or quarters.
Serve your delicious grilled mozzarella sandwich immediately and enjoy!
That was fresh!