If there's one thing I love to do, it's to cook my heart out for my fabulous friends and delightful family – especially when I can share a dish that's fresh, healthy, and packed with flavor. You know, the kind of food that leaves your taste buds reeling and your belly full! So let me tell ya, when I discovered the delicious Asian Ground Beef Rice, it was like love at first sight…er, bite! 😉
The great thing about this dish is it's so simple yet incredibly versatile; whether I'm serving a crowd or looking to whip up a quick weeknight meal for the fam, my trusty Asian Ground Beef Rice recipe never lets me down. I mean, who would've thought that ground beef and rice could get dressed up so nice, right?
Whenever I'm preparing this delectable dish, I like to start by browning some juicy ground beef in a large skillet. Now, I know what you're thinking – isn't ground beef the antithesis of fresh and healthy? Well, I'll let you in on a little secret: using lean ground beef along with tons of veggies balanced out those fears right quick! Besides, a little indulgence never hurt anybody, right?
While my beef is sizzling away and filling the kitchen with that mouthwatering aroma, I get to chopping. I toss in onions, garlic, and a rainbow of bell peppers, giving it all a good stir and letting the flavors marry in perfect harmony. As the symphony of flavor plays, I stir in a scrumptious sauce made from soy sauce, hoisin, and (drumroll, please) a little bit of peanut butter! Trust me, it's the secret ingredient that'll have everyone begging for seconds.
Once my beef and veggie medley is cooked to perfection, it's time to bring it all together. I serve it up over a bed of steaming hot brown rice, garnishing with some sliced green onions and a sprinkle of sesame seeds. Oh, and don't be surprised if your diners give this a standing ovation – this dish is a culinary masterpiece, even if I say so myself!
With my Asian Ground Beef Rice, it's a happy plate, happy belly evening for everyone involved. Just writing about it has me itching to hit the kitchen and whip up a batch – who's coming over for dinner? 😉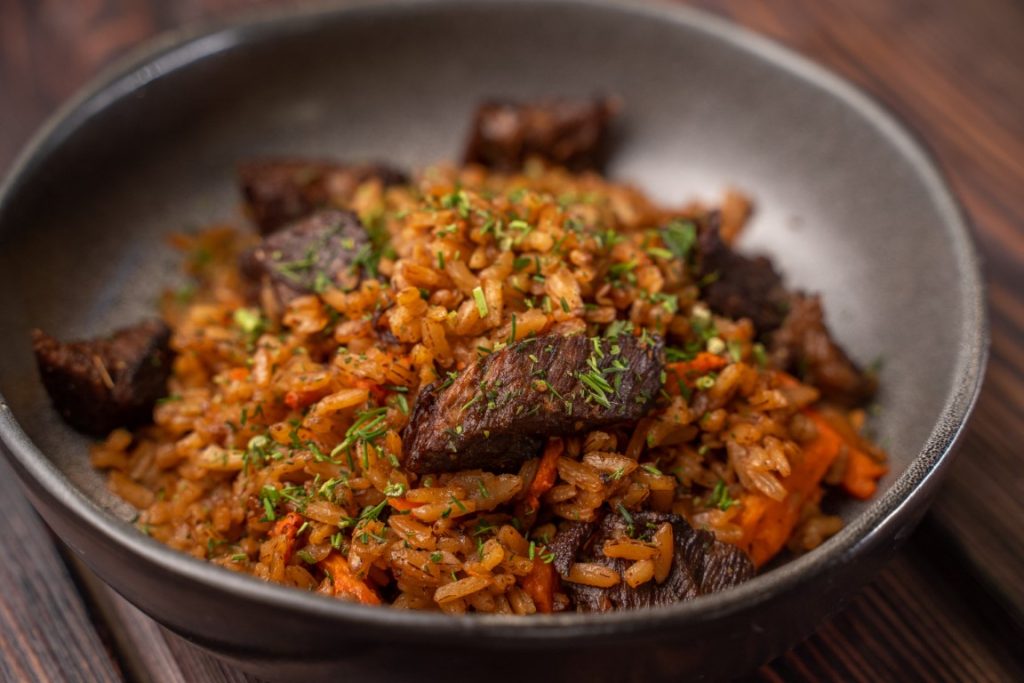 Gather ingredients: lean ground beef, onions, garlic, bell peppers, soy sauce, hoisin sauce, peanut butter, brown rice, green onions, sesame seeds.
Start by prepping veggies: chop onions, mince garlic, and dice bell peppers.
Heat a large skillet over medium heat.
Add ground beef to the skillet and cook until browned, breaking it apart as it cooks.
Drain off any excess fat from the skillet.
Add chopped onions, minced garlic, and diced bell peppers to the skillet with the beef; stir to combine.
In a small bowl, mix together soy sauce, hoisin sauce, and peanut butter until smooth and well combined.
Pour sauce mixture over the beef and veggies in the skillet; stir to incorporate evenly.
Let the beef mixture simmer for a few minutes, allowing flavors to meld together.
While the beef mixture is simmering, cook brown rice according to package instructions.
Once brown rice is cooked, fluff with a fork and set aside.
Slice green onions and set aside for garnishing.
To serve, spoon beef mixture over a bed of brown rice.
Garnish with sliced green onions and a sprinkle of sesame seeds.
Enjoy your delicious Asian Ground Beef Rice!
That was fresh!