There's nothing like reeling in a big catch, and I don't just mean the delicious fish that will soon become the star of our tasty fish tacos. I mean that feeling of joy when I have family and friends gathered around the table, eager to chow down on one of my all-time favorite dishes. You see, when it comes to Taco Tuesday, I always make a splash with my scrumptious, healthy take on this classic fiesta food.
Now, I'm about to spill the beans and let you in on my secret recipe. First things first, I love to use a succulent, fresh fillet of white fish, such as tilapia, halibut, or cod. For a burst of flavor, I rub the fish down with a zesty blend of spices – think paprika, cumin, and chili powder – before grilling it to flaky perfection. And, because it's healthy, I usually skip the deep-fryer, but if you're feeling a bit naughty, go ahead, indulge by frying up that fillet.
As the fish sizzles away, I whip up a creamy, tangy sauce that'll knock your socks off! In a bowl, I mix together yogurt, lime, garlic, and a touch of hot sauce. Trust me when I say it's so good, you'll want to just drizzle it on everything.
As for the toppings, I don't skimp, and neither should you. I'll chop up a crunchy, cool cabbage, dice a zippy red onion, and slice up creamy avocado before sprinkling them all atop my taco like edible confetti.
And now, for the grand finale – the tortillas! I prefer to use soft, warm corn tortillas, holding my taco together like a culinary hug. See, there's nothing like a warm tortilla to bring people together, am I right?
So there you have it! The most mouth-watering, healthy fish tacos that'll leave your guests craving more. Just make sure to accompany your sumptuous feast with a chilled margarita or a frosty cerveza. Enjoy!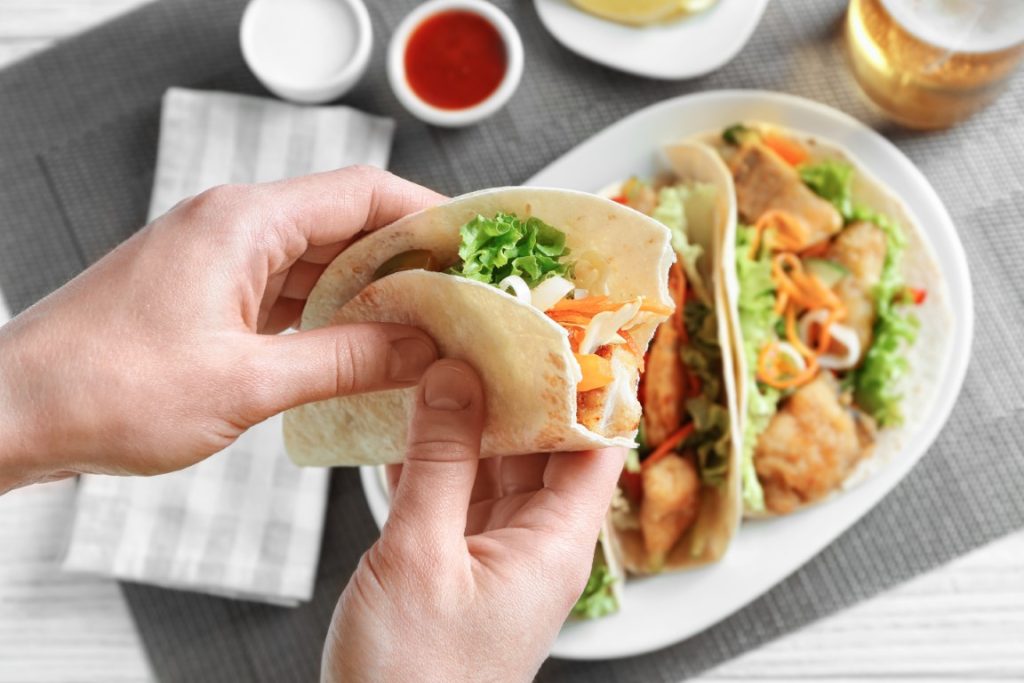 Choose a white fish: Select a fresh, white fish such as tilapia, halibut, or cod.
Prepare spice rub: Mix together 1 tsp paprika, 1 tsp cumin, 1 tsp chili powder, 1/2 tsp garlic powder, salt, and pepper in a small bowl.
Season the fish: Rub the spice mixture evenly over the fish fillets.
Grill or fry the fish: Grill or pan-fry the fish over medium-high heat for 3-4 minutes per side or until the fish flakes easily.
Make the tangy sauce: In a bowl, combine 1/2 cup yogurt or sour cream, juice of 1 lime, 1 minced garlic clove, 1 tbsp hot sauce, and salt to taste.
Prepare the toppings: Thinly slice 1 cup of cabbage, dice 1/2 red onion, and slice 1 avocado.
Warm the tortillas: Wrap a stack of corn tortillas in a damp kitchen towel and heat in the microwave for 20-30 seconds, or warm them individually on a dry, hot skillet for 10-15 seconds per side.
Assemble the tacos: Add a piece of cooked fish to a warm tortilla, top with cabbage, red onion, and avocado slices, then drizzle with the tangy sauce.
Serve and enjoy: Serve the fish tacos with a side of lime wedges for extra zing, and pair them with a refreshing beverage such as a margarita or cold beer. Enjoy!
That was fresh!