Well, butter my biscuits! This is no fairy tale, folks – I've tackled the colossal task of conjuring the perfect homemade English muffins, right in the comfort of my kitchen. And I'm tickled pink to share this culinary adventure with you.
Dawn broke and I was up with the lark, anticipation practically making me jig in my slippers. Lo and behold, there I stood in my domain, surveyed the battlefield – flour scattered on the counter, yeasty aroma in the air, and a glint in my eye. Damn straight, it was a beautiful sight.
Now let's spill the beans, making English muffins is no piece of cake. It's a dance, my friend – two to tango. There's the mighty dough, delicate yet defiant. I kneaded it with the patience of a saint, with love and care, as if soothing a cantankerous child. Before long, it nestled in the bowl – a buoyant, serene, sleeping beauty – rising to the occasion without a care in the world.
Ah! The ballet of the sizzling, hissing skillet. Skillfully, I slipped the muffins onto the fiery stage, watched them pirouette in a sizzling symphony, their undersides browning into a tantalizing golden crust. The room filled with a heavenly aroma, I felt on cloud nine.
What a journey! I watched them cool, split them with a fork – my heart aflutter as I slathered butter on the warm, inviting crumb. They were a sight for sore eyes, I tell ya.
Et voila! The perfect homemade English muffins. Paired with a piping hot pourover and a lazy, sun-drenched morning – it's pure bliss, mates. A labor of love worth every floury moment. Give 'em a whirl.
So, if you're hankering for a crumpet, remember – the kitchen is calling, and adventure is kneaded.
Oops… I meant needed. Oh well, doughn't mind the pun. Bon Appétit!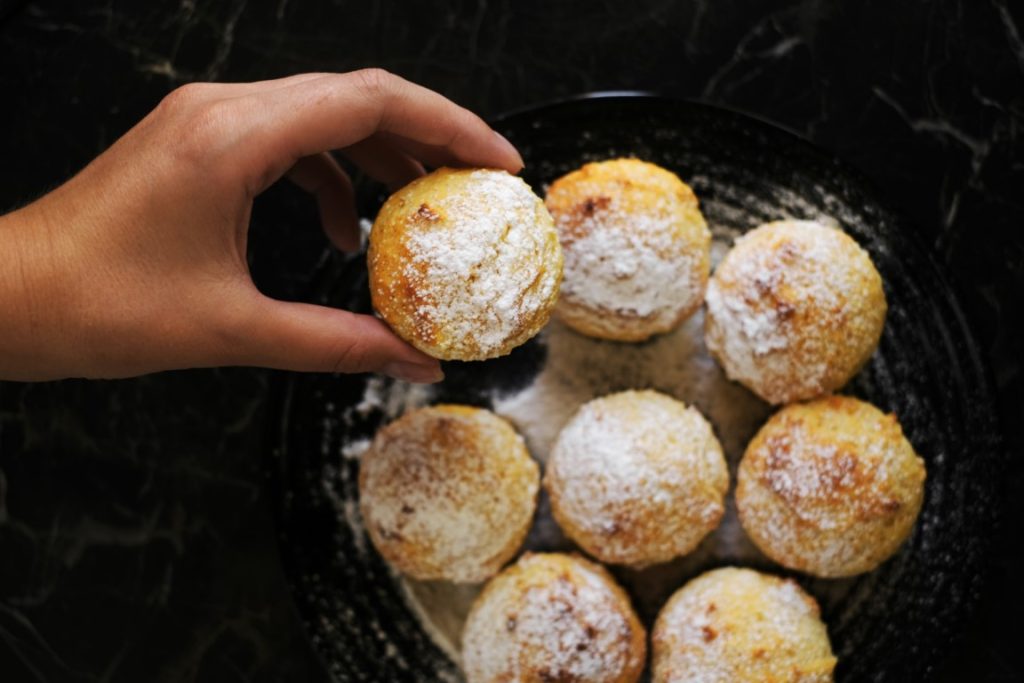 Gather your ingredients: 1 cup of milk, 2 tablespoons of sugar, 1 package of dry yeast (2 1/4 teaspoons), 1 cup of warm water (about 110 degrees F), 1/4 cup of unsalted melted butter, 6 cups of all-purpose flour, 1 teaspoon of salt.
Warm up the milk in a small saucepan until it bubbles, then remove from heat. Mix in the sugar, stirring until dissolved. Let it cool until lukewarm.
In a small bowl, dissolve yeast in warm water. Let it stand for about 10 minutes, until it becomes frothy.
In a large bowl, combine the milk, yeast mixture, butter, and 3 cups of flour. Beat until smooth. Add salt and the rest of the flour, or enough to make a soft dough.
Knead the dough on a lightly floured surface for about 8 – 10 minutes, or until it is smooth and elastic. Place it back in the bowl, cover with a damp cloth, and let it rise in a warm place until doubled in size, about an hour.
Divide the dough into 18 equal pieces and roll into smooth balls. With a rolling pin, flatten each ball into a 3-inch round. Cover and let rise until doubled in size again.
Heat a greased griddle. Cook muffins on griddle for approximately 10 minutes on each side. Keep an eye on them as they can burn easily.
Allow to cool and place on a wire rack. Slice in half to serve.
Serve your homemade English muffins warm with butter, jam or your favourite spread. Enjoy!
That was fresh!