Oh, boy! Ain't nothing quite like the satisfaction of sharing a mouthwatering homemade meal with your loved ones, am I right? I mean, there's just something about the oohs and aahs from family and friends that makes slaving away in the kitchen all worthwhile. Anyway, let me tell you about my latest culinary adventure: a scrumptious Italian Penne Casserole – or, as my Italian neighbor calls it, un Pièce de résistance!
Now, a head's up – this recipe ain't your run-of-the-mill pasta bake, no sirree! It's packed with oodles of fresh veggies, lean protein, and a tangy homemade tomato sauce that will blow your taste buds to kingdom come! And the best part? It's healthy as can be, chock full of nutrients that'll have your friends and fam clamoring for seconds. So without further ado, let's dive right in!
I always start by prepping the veggies, dicing up 'em onions, bell peppers, and of course, a whole lotta garlic – 'cause, let's face it, what's Italian cooking without some good ol' garlic? Then I sauté them in a bit of olive oil until they're all tender, and the aroma just transports me straight to the streets of Rome. Perfetto!
Next up, I get my protein on – lean ground turkey or chicken, whichever I'm in the mood for. Once that's in the pan and browned to perfection, it's sauce time! None of that store-bought junk for me, thank you very much. I whip up a batch of my signature homemade tomato sauce – well, that's a recipe for another day, my friend. Just trust me, it's out-of-this-world!
Now, the real magic begins. Once the sauce is simmering away and the penne is cooked al dente, I fold it all together in a big ol' casserole dish, sprinkle on just the right amount of mozzarella and parmesan, and let it all bake to gooey, bubbling perfection in the oven. Voilà! A dinner concoction straight from the heart of Italy. Delizioso!
You can bet your bottom dollar that serving up this Italian Penne Casserole is gonna have everyone begging for the recipe. What can I say? It truly is the gift that keeps on giving! Buon Appetito, y'all!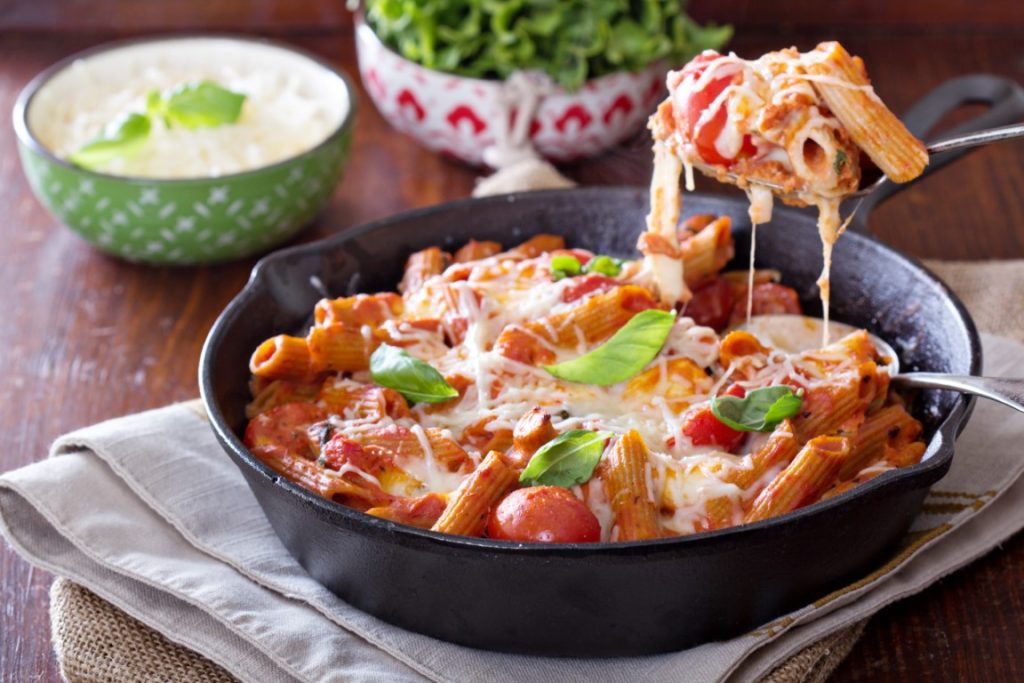 Preheat the oven to 375°F (190°C).
Gather ingredients:
12 oz penne pasta, cooked al dente
1 lb lean ground turkey or chicken
1 large onion, chopped
1 red bell pepper, chopped
3 cloves garlic, minced
2 cups homemade tomato sauce (or store-bought if you prefer)
2 cups shredded mozzarella cheese
1 cup grated parmesan cheese
2 tablespoons olive oil
Salt and pepper, to taste
Chopped fresh basil or parsley, for garnish (optional)
Instructions:
Heat olive oil in a large skillet over medium heat.
Add chopped onion, bell pepper, and garlic to the skillet, sauté until softened.
Add lean ground turkey or chicken to the skillet, breaking it up as it cooks until fully browned.
Season with salt and pepper, to taste.
Stir in the tomato sauce, and let it simmer for a few minutes to incorporate the flavors.
In a large casserole dish, mix together the cooked penne pasta and the meat sauce until evenly combined.
Layer half of the pasta mixture onto the bottom of the casserole dish.
Sprinkle half of the mozzarella and parmesan cheeses over the pasta layer.
Add the remaining pasta mixture on top of the cheeses, creating another layer.
Top the casserole with the remaining mozzarella and parmesan cheese.
Place the casserole dish in the preheated oven and bake for 25-30 minutes, or until the cheese is melted and bubbly.
Remove the casserole from the oven and let it sit for a few minutes to settle, allowing for easier serving.
If desired, garnish with chopped fresh basil or parsley before serving. Enjoy your Italian Penne Casserole!
That was fresh!