Ah, autumn! The perfect time to curl up with cozy blankets, warm beverages, and… you guessed it, a wholesome bowl of homemade soup. I've been on the prowl for a recipe that warms the soul, has a touch of culinary flair, and showcases the fantastic flavors of the season. A little birdie told me about Curried Buternut Squash Soup, and I thought, Well, why not give it a whirl?
So, off I went to shop for my delightful, golden squash, shallots, and vibrant ginger, all fresh as a daisy. I snuck in a little bit of apples too, 'cause who doesn't love that subtle natural sweetness to perfectly balance out that slightly spicy curry kick?
Once I had gathered all my trusty ingredients, in true chef style, I was ready to whip up this scrumptious soup that'll surely impress my loved ones! First things first, I chopped up the butternut squash, onions, and garlic, humming a little tune all the while. Oh, and of course, I got my hands on that trusty peeler and removed the apple's skin – it's as easy as pie.
Bam! It was time to dazzle in the kitchen, as I heated some oil in a large pot, and tossed in those chopped goodies, ginger, and curry powder, sautéing them lightly to release their glorious aromas. Once it all looked golden and smelled heavenly, I poured in the vegetable broth and let the magic simmer for a good 30 minutes.
As the dancing flavors mingled to create the ultimate soup sensation, my kitchen was filled with the most intoxicating aroma. Finally, the pièce de résistance: blending everything together, transforming it into a smooth, velvety concoction, just bursting with pure, wholesome goodness. Et Voilà! Curried Butternut Squash Soup, ready to be devoured by friends and family.
Trust me, this soup was like a first-class ticket to Flavortown, and it's a recipe that finds a permanent spot in my beloved cookbook. Go ahead, give it a shot, and watch everyone's taste buds sing with delight!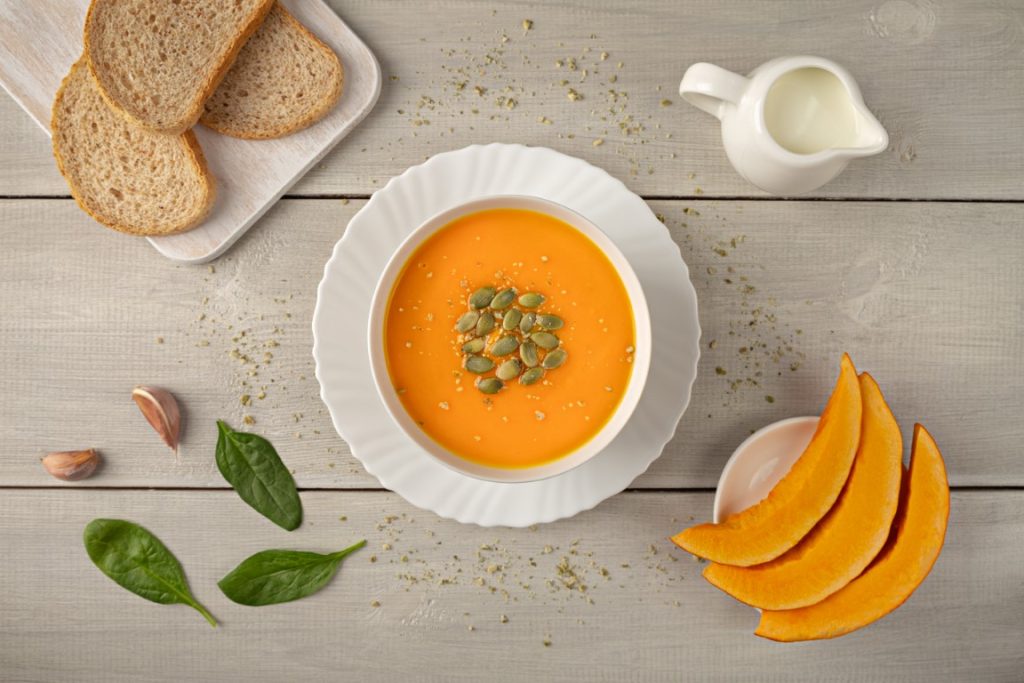 Gather ingredients:
1 large butternut squash (peeled, seeded, and cubed)
2 tablespoons olive oil or coconut oil
1 medium onion (diced)
2 cloves garlic (minced)
1-inch piece fresh ginger (peeled and minced)
1 tablespoon curry powder
1 small apple (peeled, cored, and diced)
4 cups vegetable broth
1 cup coconut milk (optional)
Salt and pepper to taste
Fresh cilantro or parsley for garnish (optional)
Preheat a large pot or Dutch oven over medium heat. Add oil to heat.
Add diced onion to the pot and sauté until translucent and tender, stirring occasionally.
Stir in minced garlic, ginger, and curry powder. Cook for about 1 minute, until fragrant.
Add cubed butternut squash, diced apple, and vegetable broth to the pot. Bring to a boil.
Reduce heat to a simmer and let cook for about 25-30 minutes, or until squash is fork-tender.
Remove pot from heat and let the mixture cool slightly. Carefully blend the soup in batches, using a blender or immersion blender, until smooth and creamy.
Return the blended soup to the pot and stir in the coconut milk (if desired) for added creaminess. Season soup with salt and pepper to taste.
Reheat soup over low heat if necessary. Serve hot, garnished with fresh cilantro or parsley, if desired.
Enjoy your delicious Curried Butternut Squash Soup with family and friends!
That was fresh!