There's no denying it, folks. I've always experienced a major thrill tickling my taste buds with scrumptious homemade cuisines. Preparing deliciously fresh and healthy foods for my loved ones is my ultimate jam. This summer, I've nailed a new sensation that's taking the culinary world by storm: Chicken Popper Pineapple Bowls! That's right, saddle up, and prepare for an adventurous excursion to flavor town.
Let's kickstart this tropical party by forging ahead on the roadtrip to marinating a killer chicken. Whip up a delectable concoction of lime, soy sauce, ground ginger – or better yet, that freshly minced ginger – garlic, cilantro, and red pepper flakes. Bye-bye boring chicken – hello, tender slices of sizzling goodness! Marinate your chicken in this zesty blend for a few hours, soaking up all that enticing magic.
Halfway to paradise, it's time to split our pineapples in two. Yup, we're going wild and transforming those sweet, luscious fruits into edible vessels for our Chicken Popper Pineapple Bowls. Holy guacamole – talk about an epic twist!
Now, we've come to the pièce de résistance – grilling up that marinated chicken to perfection. Don't hold back on those char marks, folks. We want every bite of that chicken to shout, I'm ready to party!
As our chicken sizzles away with enthusiasm, whip up some succulent pineapple salsa with your freshly scooped pineapple chunks, cherry tomatoes, jalapeños, onions, cilantro, and lime juice. No biggie, just a fiery explosion of bold flavors that'll knock your socks off!
Once that divine chicken is cooked to sheer brilliance, pile it high in your pineapple boats and generously garnish with that tangy, sweet salsa. And as for the grand finale? Drizzle that sweet chili sauce like a boss!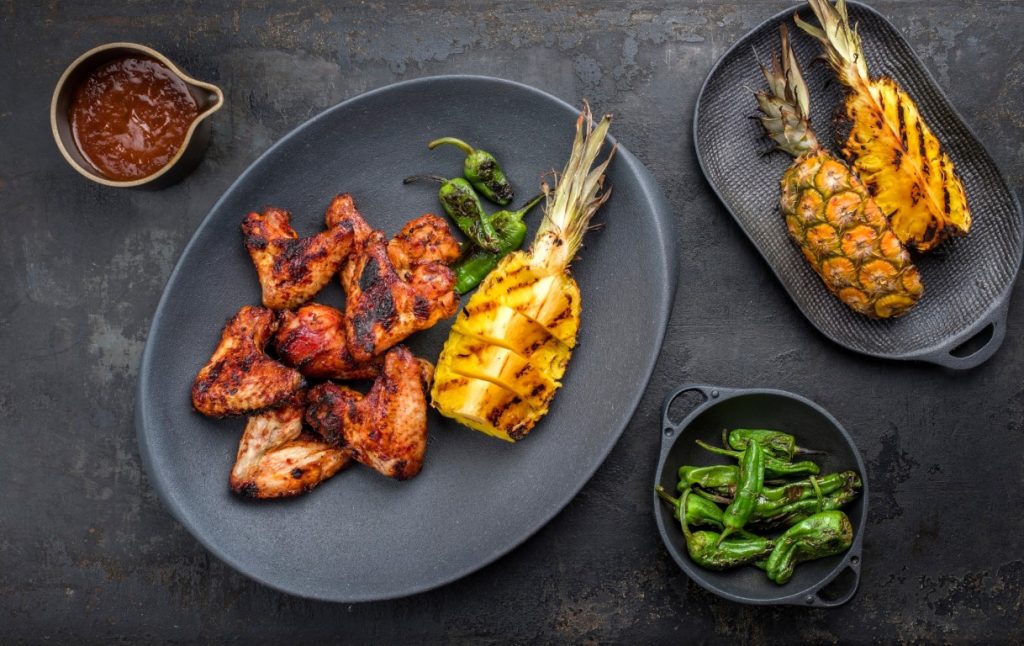 Chicken Popper Pineapple Bowls, my friends… being the life of the party never tasted so good!
Gather ingredients: boneless, skinless chicken breasts, lime, soy sauce, ground ginger, fresh garlic, fresh cilantro, red pepper flakes, ripe pineapples, cherry tomatoes, jalapeños, onions, and sweet chili sauce.
Marinate chicken: Slice chicken breasts into bite-sized pieces. Combine lime juice, soy sauce, ginger, minced garlic, chopped cilantro, and red pepper flakes in a bowl. Add chicken pieces and marinate for at least 2 hours, or overnight for optimal flavor.
Prepare pineapple bowls: Slice pineapples in half, lengthwise. Use a sharp knife to cut around the interior of each pineapple, being careful not to cut through the skin. Use a spoon to scoop out pineapple chunks and set aside for salsa.
Make pineapple salsa: In a separate bowl, combine chopped cherry tomatoes, diced jalapeños, diced onions, chopped cilantro, a splash of lime juice, and the reserved pineapple chunks. Mix well and set aside.
Grill chicken: Preheat grill or grill pan to medium-high heat. Carefully skewer marinated chicken pieces, then grill until cooked through and showing char marks, about 5-6 minutes per side.
Assemble Chicken Popper Pineapple Bowls: Fill each pineapple bowl with a layer of chicken, then top with a generous amount of pineapple salsa. Drizzle sweet chili sauce over the top for an extra burst of flavor.
Serve and enjoy the explosion of tropical taste in your homemade Chicken Popper Pineapple Bowls!
That was fresh!