Well, butter my biscuit, are we in for a treat? Today, we're diving headfirst into the delightful, down-home vintage craze of making cornmeal muffins. Boy howdy! Nothing gets my mouth watering quite like these fluffy little nuggets of wholesome goodness. Makes me feel like I've just stepped off the porch on a beautiful summer morning in the Southern heartland.
I got bit by the cooking bug at a tender age, and lemme tell you, there ain't no vaccination for that! Cornmeal muffins – they're my specialty, my pièce de résistance. Sounds a tad fancy, huh? They're nothing but heaven in a bite offering a smack of sweet, a touch of savory and a texture so light and fluffy, you'd reckon it could float right off your plate.
First off, it's all about the cornmeal. Grab a pound of the best, folks. Ain't no sense skimping out on the star of the show. The next key, you see, lies in sifting it with the flour and other dry ingredients. You don't want any lumpy-shaped surprises now, do you? As for the wet ingredients, we're talkin' buttermilk, eggs and a dash of oil or some softened butter.
Taking it slow and steady is the key when combining wet and dry ingredients. Mix 'em up too vigorously, and you're gonna be in knee-deep in dense muffins. Ain't nobody got time for that! And remember, patience is a virtue even with baking. Those little darlings need time to rise and golden, around 15-20 minutes tops.
Getting the hang of cornmeal muffin magic isn't a piece of cake, but practice makes perfect, folks! You keep at it, and soon enough, you'll be whipping up the most delightful, scrumptious, cornmeal muffins this side of the Mississippi. Ain't that a hoot?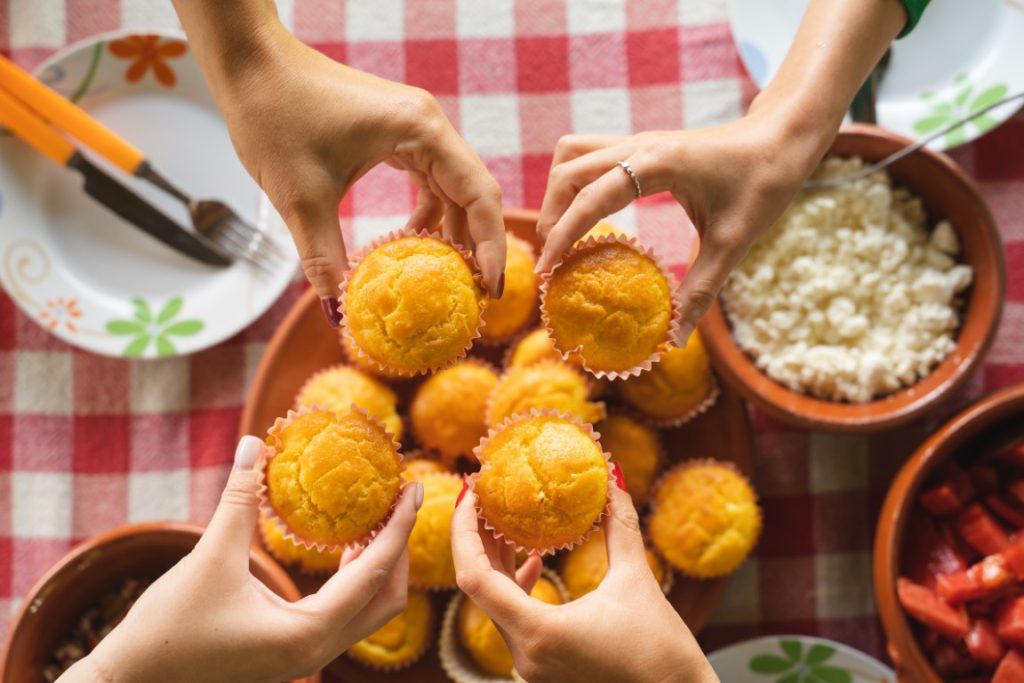 Gather your ingredients: 1 cup of fine cornmeal, 1 cup of all-purpose flour, 1 tablespoon of baking powder, 1/2 teaspoon of salt, 1 cup buttermilk, 2 large eggs, 1/4 cup of honey, 4 tablespoons of unsalted butter, melted and cooled.
Preheat your oven to 400 degrees F (200 degrees C) and line a 12-cup muffin tin with paper liners or lightly grease them.
In a large bowl, mix together the cornmeal, flour, baking powder, and salt until fully combined.
In another bowl, whisk together the buttermilk, eggs, honey, and melted butter until smooth.
Gradually mix your wet ingredients into the dry ingredients, stirring gently until just blended. Remember, no one wants a tough muffin, so don't overmix!
Spoon the batter evenly into the prepared muffin tin, filling each cup about two-thirds full.
Pop them in your preheated oven and bake for 15-20 minutes, or until the tops are golden brown and a toothpick inserted into the center comes out clean.
Let the muffins cool in the tin on a wire rack for 5 minutes, then remove from the tin and allow to cool completely on the rack.
Serve your cornmeal muffins warm with a spread of butter or a dollop of honey for an extra kick of sweetness.
And finally, sit back, relax, and enjoy the fruits of your labor. And remember, my darling, calories don't count when it comes to homemade muffins!
That was fresh!