Oh boy, let me tell you! There's something totally irresistible about that golden, crispy exterior, giving way to a fluffy, steaming hot interior. Yes, you've got it! I'm rambling about the mighty French fry. Now, throw in homemade, healthier, and surprisingly easy to prepare – boom! You've got air fryer French fries, knocking it out of the park for the win.
As someone who fancies rolling up their sleeves and getting messy in the kitchen, I feel air fryer French fries are an absolute delight to prepare. Not to mention, they're a far healthier option compared to their deep-fried fellows. Their lower fat content has me grinning like a Cheshire cat for they tick off the 'guilt-free indulgence' box.
The prep's a breeze, honestly. A peeler, a sharp knife, few tatties, a smidge of oil and voila! Before you know it, you're on the road to Fry-town. I sweat over the details – cutting each spud the same size, ensuring they get that perfect air fryer tan. Gosh, it's fun to go through all that rigmarole!
Though the air fryer's a modern gadget, it gives a nostalgic edge, transforming me into my grandma's kitchen-help, tirelessly flipping fries. It's a dilly of a pickle to balance the need for speed and the desire for delectable crunch. A quick flip here and there, and they cook evenly sans the much-avoided sogginess.
And the reward? Oh my stars, it's worth every second! Golden, crispy morsels of heaven that lead to a potato paradise. A wide, satisfied grin from family, friends and yours truly. Now that, my friend, is the cherry on top!
With air fryer French fries, it's 'bout airing on the side of wholesome, indulgent goodness. And to that, I say, 'Bring it on!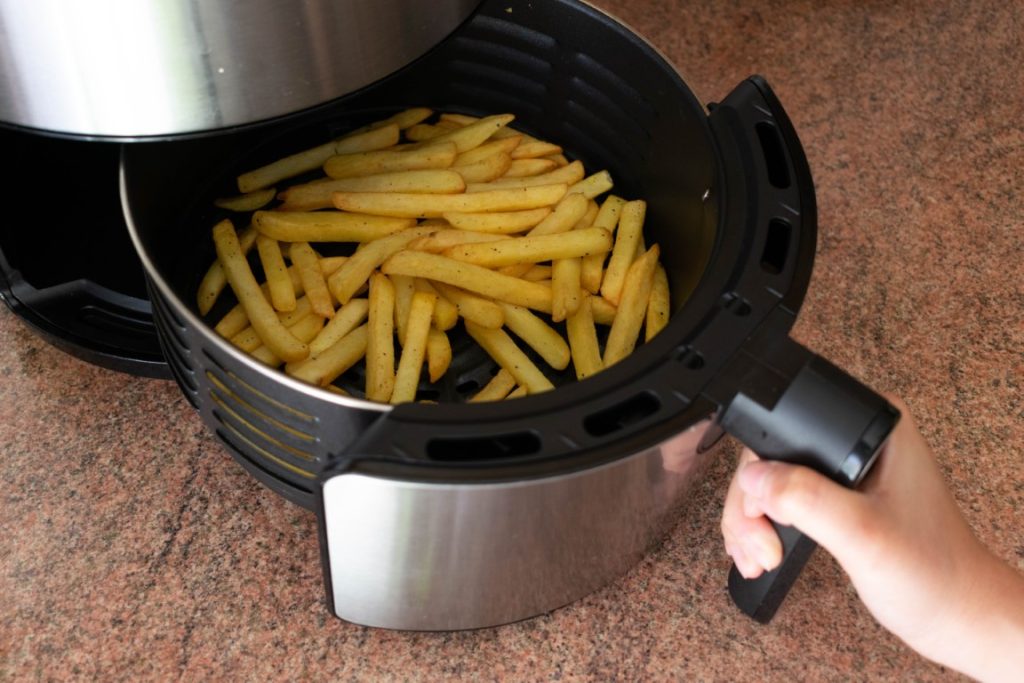 Let's Get To Work!
Select 3 large Russet potatoes.
Peel the potatoes and slice them into fries/pieces, ensuring even thickness.
Soak the fries in cold water for at least 30 minutes to an hour, to remove excess starch.
Drain and dry the fries thoroughly with a clean towel.
Place the fries into a bowl and toss with a tablespoon of olive oil ensuring all fries are coated.
Preheat your air fryer to 380°F for about 5 minutes.
Add the oiled potatoes to the air fryer basket, spreading them out evenly and cook for 15 minutes.
Pause the air fryer occasionally to shake the basket for even cooking.
After 15 minutes, increase the temperature to 400°F and cook for additional 5-10 minutes until crispy and golden.
Remove from the fryer and immediately sprinkle with salt or your choice of seasonings.
Serve hot and indulge in your homemade, healthier French fries.
That was fresh!